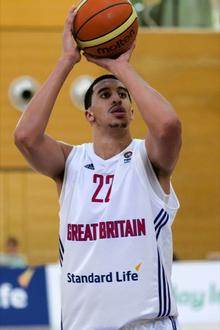 by Scott Mitchell
A former Sittingbourne schoolboy has his eye on the ball and a spot in next year's Olympic basketball team.
Ryan Richards, who signed for four-time NBA champions the San Antonio Spurs last year, has made his senior debut for the Great Britain basketball team in the London Invitational Tournament.
He moved to Spain at the age of 15 to help his career.
Former PE teacher and head of year at The Westlands School Mo Fazackerley said the national call-up was further proof that he had "made absolutely the right decision".
She added: "I think it is absolutely awesome.
"It's really quite incredible to see someone that you really had a lot to do with and how they've matured into such a player."
It is maturity which British Basketball's head of performance believes puts the 20-year-old in the running for a place in the squads for the Olympic Games next year, although he missed out making the team for the European Championships in Lithuania.
Warwick Cann said: "He has enormous potential to be a long-term senior GB team player and seasoned professional player.
"I think Ryan clearly has the ability to make next year's Olympic team."
His former Kent Crusaders' coach, Jesse Sazant, believes his career in the States, which began with frustration after a operation on an old shoulder injury, will take off sooner rather than later.
He said: "There's no doubt that the Spurs have heavily invested in him and are very serious about him and it's down to him to take the opportunity.
"He can be an established NBA player and that's the ultimate accolade."
Great Britain Basketball performance director Chris Spice said: "Ryan has had a great summer with British Basketball starting back in June with the under-20 programme.
"His great performances there and at the front of the senior camp meant he was still in the mix to the very end which is a credit to his effort.
"If he continues to improve on the little things in his game then he will have a lengthy international basketball career. We look forward to seeing him progress and we wish him well."