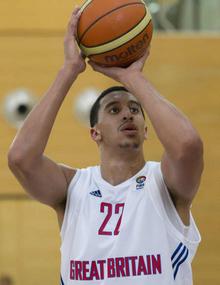 NBA player Ryan Richards has reportedly left his Swiss-based team for 'personal reasons.'
The Sittingbourne-born former Crusaders player - who was selected by San Antonio Spurs in the second round of the 2010 NBA draft - has been loaned out to European teams to develop his skills before making his bow with the Spurs.
The 6ft 11in power forward/centre played 15 games for the Lugano Tigers in the Swiss League, averaging 11.2points and 6.7rebounds - the second highest on the team.
The Tigers began the season with an impressive 17-1 record in the Swiss A Division but after missing two straight games, it was revealed Richards had left the team for 'personal reasons' according to a report on Eurobasket.com
It is not yet known whether he will join another European team or be recalled to the USA.
Richards, who turns 21 in April has previously played in Switzerland with BBC Monthey and has had stints in Spain and Belgium.
He began his career at 13 with the Kent Crusaders, before their move from Canterbury to Medway Park, before moving to Spain in 2006 to join Gran Canaria's academy.
Richards is likely to earn a place in the Great Britain squad for the London 2012 Olympics after averaging 22 points and eight rebounds for the GB under-20 team at the European Championships.