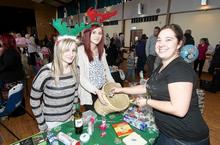 by Hayley Robinson
Festive spirit was brought to life thanks to a Christmas fete.
More than 200 people made their way through the doors of Kemsley village hall on Saturday to browse and buy gifts from a variety of stalls.
Items for sale included arts and crafts, jewellery, sweets and toys.
Youngsters got the chance to visit Father Christmas in his grotto and tell him what presents they'd like to receive on Christmas Day.
The grotto, which was funded by Little Stars Nursery – a full-time resident at the hall, raised a total of £150. The money will go to the charity Macmillan Cancer Support.
There was also a song and dance show, which included a modern version of the Nutcracker, performed by 30 children from the Star Academy stage school which meets at the hall once a week.
The fair was organised by Chantelle Williams and her sister Claire Elliott, who have set up a Facebook group called Kemsley Community Group in a bid to encourage residents to attend events going on in their area.
Miss Williams, 32, who lives in Sittingbourne and runs Star Academy, said: "It was a great success and a great start to Christmas.
"My sister and I are both trustees of the hall and we both work there so we have a vested interest in getting things up and running in the community.
It's been difficult to get people into the hall, in the past people have travelled outside of the area to go to events, now we're trying to get them to attend things in their area.
"The last event we held was at Halloween and that went well as well, as we had around 200 people attend and raised £200 for the Society for Mucopolysaccharide Diseases."
A trust consisting of 10 to 12 people, was set up towards the end of last year to take over the running of the hall from Swale council.
The transfer, which should be completed by next summer, will allow them to take bookings for the venue and oversee the clubs and activities taking place there.
A peppercorn rent will be paid to the council.
It is hoped that in future the trust will become a registered charity making it exempt from paying rates for the building.
Anyone interested in becoming a trustee for the hall is asked to email kemsleycommunity@yahoo.co.uk