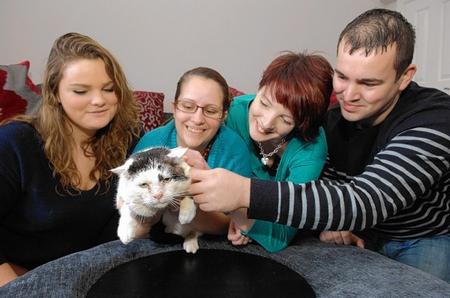 by Hayley Robinson
An animal rescue service is appealing to the public for help so it can continue with its work.
Foster carers are needed so more moggies can be taken in by Cat Care Rescue.
Donations are also needed to help pay for the cost of neutering and microchipping the cats, as well as any other veterinary costs that may be incurred depending on the health of each animal.
The group, which was set up via Facebook in May last year, is run by three women – Lisamarie Curtis, from Sittingbourne, Bex York, from Sheerness, and Kim Josling, from Maidstone.
There are nine cats, aged between four months and six years, which need rehoming.
Some are strays which have been rescued while others have been handed over by their former owners for various reasons.
They are being looked after between the three women and four other volunteers.
Miss Curtis said: "The more foster carers we get the more we can expand and help other cats.
"We have a PayPal account and an account at Sittivets. At the moment we have to look at our funds before we can agree to take in a cat, but we'd like to get to a place where we don't have to do that.
"While we're not a charity, we are working towards becoming a not-for-profit organisation," she added.
For more information about fostering or adopting a cat, email catcarerescue@gmail.com
Donations can either be made to the Cat Care Rescue account held at Sittivets, in Castle Road, Sittingbourne, or to make a payment via PayPal, log in and go to "send money" and enter the email address above