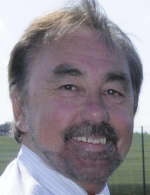 Sittingbourne have been warned about their future conduct following an FA disciplinary hearing at Wembley.
Joint-managers Jim and Danny Ward and secretary John Pitts appeared before a disciplinary committee including former Tottenham captain Gary Mabbutt on Tuesday morning.
They were asked to explain the club's record of nine red cards and 54 bookings in 31 league and cup matches this season.
Pitts (pictured) said: "We told the committee we'd reminded the players of their obligations to Sittingbourne FC and the consequences if they let the club down.
"We were warned about our future conduct and if things don't improve, we will be back at Wembley at the end of the season and probably facing a fine."
Bourne have introduced fines to clamp down on indiscipline, although Ward believes his players have been harshly treated at times.
He said: "We feel referees have been too strict this season. I have never sent a player out to kick anybody in my life.
"We have one or two players who like a tackle but we are far from being a physical side.
"What drives me mad is bookings for dissent. We've now put in place fines whereby a player booked for dissent loses 25% of their wages and if they are sent off for dissent, they lose all their money."