by Rachael Woods
A world champion French knitter has gone to extraordinary lengths to get keep his place in the Guinness Book of Records.
Ted Hannaford, 72, has created a colourful rope that is 17 and a quarter miles - or 27,842m - long.
His achievement has been witnessed by mayor of Swale, Cllr Pat Sandle, and Cllr Gareth Randall who will officially record the measurement.
The work is a labour of love for Ted, who started to make the rope in 1989 after becoming concerned his wife Rita was wasting wool when she made Fair Isle jumpers.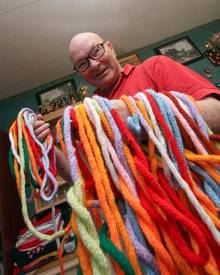 Rita only needed a small amount of wool for the coloured detail on her jumpers and Edward eventually took up the slack.
"I told Ted he should knit and first of all he said 'men don't knit', but he gave in eventually."
Ted competes with Aussie knitter Leon Milich for the world title, but is confident his nearest rival will not be able to stitch him up.
"At the last count I was three miles ahead of him," said Ted.
French knitting is done on a spool with four nails to produce a narrow length of wool.
Great granddad Ted, of Cavell Way, Sittingbourne, said he finds French knitting therapeutic.
"I just sit and watch the telly and do the knitting , it comes naturally to me and I find it calms me down."
Rita said she supports him in his hobby, even though space in their home has been sacrificed to the project.
"I've lost my dining room as there are two 6ft high boxes in there with the knitting. We now eat our dinners on our laps, but it's worth it."