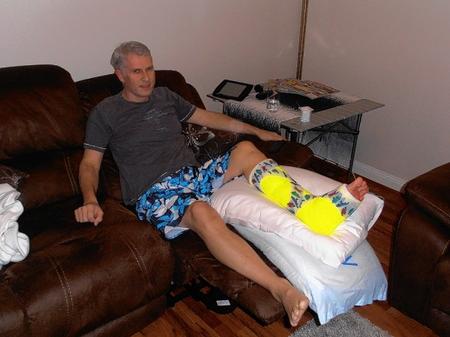 They say exercise is good for your health, but Mark Pamplin may disagree after a walk resulted in a 999 rescue.
The 49-year-old and his friend Mark Walker regularly go for a stroll to keep healthy.
But their latest trek was cut short after Mr Pamplin slipped on a muddy footpath and fractured his left ankle while walking along the Saxon Shore Way from Upchurch towards Lower Halstow.
To make matters worse, it took medics two hours to rescue him after an ambulance and a 4x4 ambulance both became trapped in mud trying to reach him.
In the end Kent Air Ambulance was called to the scene to airlift Mr Pamplin to Medway Maritime Hospital following the accident on January 30.
Mr Pamplin, of Maylam Gardens, Sittingbourne, spent a week in hospital and had surgery to repair the damage.
He says the doctors have told him it could be at least three months before he can return to his job as an electrician.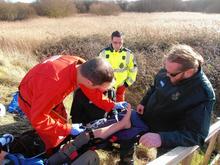 He said: "I was walking along the seawall and there was lots of mud but then as I got down I slipped on the muddy footpath.
"I couldn't believe it, I'd only gone on a country walk, to keep healthy and get some fresh air!
"I hobbled about another 10 yards and got over a gate and sat down on the grass while Mark dialled 999.
"When the ambulance turned up, Mark went and met them as the nearest location we could give was Frog Farm.
"Two of the crew turned up on foot as they'd couldn't get the ambulance any closer.
"They called the hazardous area response team (HART) but they were on another job so they called for a 4x4 ambulance.
"When it arrived one of the paramedics went off to meet it but they came back about half an hour later with some equipment and informed me the 4x4 was stuck, as was the ambulance where he'd tried to free it.
"In the end Kent Air Ambulance were called but by that time I was quite relaxed because I'd had gas and air.
"Everyone involved was brilliant and I couldn't have had better service although I do feel bad about tying up so many resources."
---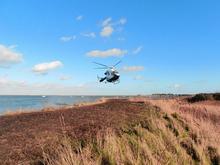 A South East Coast Ambulance spokesman said: "I would praise our crew for working hard to get to the patient and feel for Mr Pamplin for having to wait around in the cold.
"It was far from ideal but we tried to get to him as quickly as possible in difficult circumstances.
"We wish him the best with his recovery and are glad that with the help of the Kent Air Ambulance we were able to get him to hospital.
"Had the HART team been available to respond they may have been able to get to him quicker as they have more equipment but unfortunately they were already on another call and they have to prioritise their calls just like we do.
"Unfortunately they can't be everywhere at once."