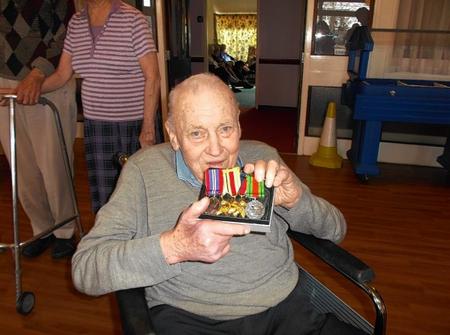 by by Rachael Woods
A daughter's quest to reunite her father with his wartime medals has ended in victory.
When Fred Beaves attended a Buckingham Palace garden party last May, the immaculately-dressed 92-year-old felt the absence of his Second World War medals more than ever.
The Court Regis resident's collection of five medals should have been proudly pinned to his lapel as he stood alongside fellow veterans at the event for the Not Forgotten Association – but they had long since been lost.
Fred worked as a driver for Wellington bomber squadrons and had earned the Defence Medal, Africa Star, Italy Star, 39-45 Star and 39-45 Medal for carrying out his duties in Europe and North Africa.
In one North African mission he had to drive across territory laced with mines to retrieve fuel needed to operate a radar.
The only trace of Fred's five medals were the ribbons they had been attached to, which were discovered at his former home in Milton Regis.
His daughter Barbara Ward went on a mission to track down the missing medals, using her dad's war services record.
But her initial inquiries to the British Foreign and Commonwealth Office met with disappointment.
Her search was backed by her sister Christine Beaves, 62, who lives in Hambrook Walk, Fred's home before he went into care.
Miss Beaves said: "Barbara was told that our dad's medals were despatched to him in 1948 to an address in Fulham, London, where he was living at the time.
"She was informed that unless they had been reported as lost or stolen they could not be replaced."
But Barbara, of Uckfield, East Sussex, battled on and her persistence paid off. She was eventually able to secure replacement medals for Fred, which were presented to him this month.
Miss Beaves said: "Dad was delighted to get his medals back it was a very happy day."