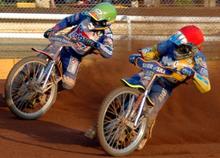 By Craig Tucker
Champion speedway rider Steve Boxall has signed for the Kent Kings – after abandoning plans to become a professional boxer.
Boxall, a two-time Premier League winner with Rye House Rockets, retired from speedway last year and was training for a career in the ring.
But the 25-year-old, from Canterbury, changed his mind after meeting Kings co-promoters Roger Cearns and Len Silver at Central Park.
He's put his boxing ambitions on hold to be Kent's No 1 rider in their debut National League season.
Boxall (pictured right, red helmet) said: "If all goes well, as it should, I'll forget about getting my head bashed in for money. On the other hand, if I fail, I can still go back in the ring but speedway is better."
Boxall joins skipper David Mason, Ben Morley and Connor Coles as the latest member of the Kent team who will race for the first time at Central Park against the America Touring Team on May 6.
Meanwhile, Kings commercial manager Neil Day was encouraged by interest in the club when he attended the Celebration of Speedway event in Hertfordshire.
Day said: "It seemed that every five minutes I was stopped by someone who wanted to talk about the Kings, be it fans of the Kings who couldn't wait for the season to start, or fans from other clubs who said they wanted to be at the first meeting."