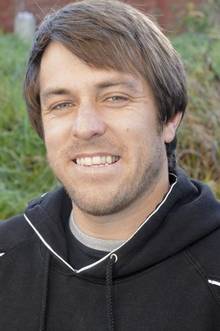 by Hayley Robinson
A third person has today been charged with murdering Kent teacher Carl Davies on a paradise island.
The 24-year-old man appeared before a judge accused of killing Carl while he was working as a security guard on a ship that stopped at Reunion island in the Indian Ocean.
Another defendant is appearing in court this afternoon, when he is also expected to be formally accused of murdering Carl (pictured right)
Yesterday, a 16-year-old boy and his 26-year-old brother were charged with murder.
Two other men have been detained by authorities as part of an investigation into Carl's death on the French-governed island.
Police on the island described the killing of Carl as a "vicious crime" and confirmed there were no sexual connotations.
Officers from Kent Police are due to visit his parents, Andy and Maria Davies, at their home in Harrietsham this afternoon to update them on the French investigation.
The couple's French-speaking lawyer is also expected to speak to them tonight after the court hearing.
Carl, of Harrier Drive, Sittingbourne, was 33 when he was killed on the French-administered island on November 9, 2011.

The former Royal Marine had been working as a security guard on a ship that had berthed there.

He had also worked as a teacher at Sittingbourne Community College and the Isle of Sheppey Academy.
His parents were initially told their son had died after falling into a ravine - but a week later they received the news he had been murdered.