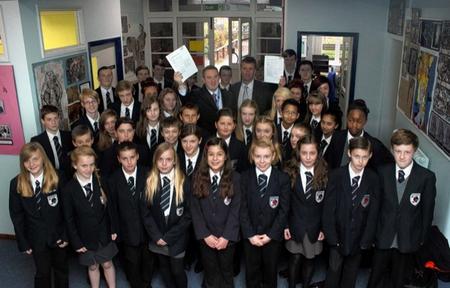 by Hayley Robinson
Staff and pupils are celebrating after their school was rated "outstanding" by Ofsted.
Westlands has received the highest overall accolade a school can get under the watchdog's new inspection guidelines.
The body's previous 27 judgements have been cut down to just four main key areas: Achievement of pupils; quality of teaching; behaviour and safety of pupils and leadership and management.
The changes, which came into force earlier this year, were made to simplify the process and make it easier for schools to keep track of progress.
A summary of the report said: "The executive head teacher [Jon Whitcombe] is relentless in his drive to ensure students succeed.
"He sets exacting standards for all and will settle for nothing but the best.
"Leaders at all levels are passionate about the difference they can make.
"GCSE results have risen from way below to above average since 2009.
"Students' behaviour is outstanding. Teaching is outstanding.
"The governing body and trustees have an excellent understanding of the school. The sixth form is good and rapidly improving."
The school's senior management team decided to share the good news by posting a copy of the report to every students' home last Thursday.
Head of school Simon Cox said: "There are some fantastic comments made by Ofsted throughout the report.
"I would like to thank the teachers, support staff, parents, and governors for their hard work and support over recent years.
"The staff were determined to do well during the two days of the inspection.
"However, most praise should be reserved for the pupils themselves, who approached the inspection with an attitude of wanting to show the inspectors that Westlands is a great school of which to be a part."
To improve further, the school has been asked to raise the quality of teaching in more lessons from good to outstanding by making sure teachers adapt tasks to match all pupils' abilities.
It has also been suggested that staff make use of data from schools nationwide to further improve all subjects in the sixth form.
To see the full report, visit www.ofsted.gov.uk