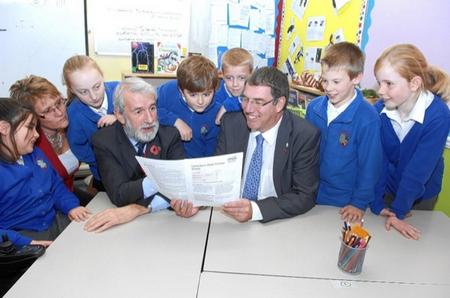 by Hayley Robinson
A town school, previously found by Ofsted to be satisfactory, has achieved a "good" rating.
The news has been a welcome boost for staff and pupils at Canterbury Road primary, who have worked hard to improve since its last inspection in March 2010.
A summary of key findings in the latest report says: "Teaching is good. Some is outstanding. Lesson activities are well matched to pupils' different abilities, and teachers work well with teaching assistants to ensure all pupils are fully involved and make good progress.
"Consequently, pupils achieve well overall by the time they leave the school.
"Leaders and managers have successfully improved teaching and pupils' achievement and well-being since the previous inspection.
"The curriculum enables all pupils to achieve well and provides them with memorable experiences, which strongly promote their spiritual, moral, social and cultural development."
The new style of report also sets out why the school is not yet outstanding, saying: "A small minority of teaching, and consequently pupils' progress, is uneven.
"It is best in Years 3 to 6, especially in reading and mathematics, but has been less effective in raising pupils' attainment in writing in Reception, and Years 1 and 2.
"Some teachers do not always focus strongly enough on ensuring that pupils pay sufficient attention to accuracy in spelling or give pupils sufficiently detailed written information to enable them to improve their work.
"Not all middle and subject leaders monitor the quality of pupils' work regularly or rigorously enough."
To improve further, three recommendations have been to the school.
They are: Raise the levels of pupils' attainment, especially in writing, by ensuring they make faster progress in Reception and in Years 1 and 2;
Increase the proportion of outstanding teaching by ensuring that all teachers consistently focus more closely on the accuracy of pupils' spelling, give pupils sufficiently detailed information about how to improve their work, and encourage pupils to respond to teachers' written comments.
And to ensure that all middle and subject leaders regularly and rigorously monitor the quality of pupils' work.
To mark the occasion, the school was visited by Kent County Council chairman Richard King and cabinet member for education, Cllr Mike Whiting.
Head teacher Zoe King said: "The governors and I are delighted that the staff's commitment and hard work towards the children has been recognised by Ofsted.
"We are very pleased that Ofsted acknowledged the excellent behaviour and co-operation of our pupils and how much they enjoy their learning.
"Children benefit from teaching which is always good and so make excellent progress and attain very well, usually above that of pupils nationally.
"The teachers and teaching assistants' expertise, our strong ethos of happiness and hard work and our concern and interest in each child makes Canterbury Road a very special place and I am so proud to be its head teacher."
To see the full report visit www.ofsted.gov.uk