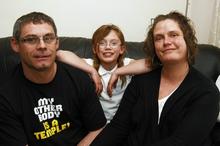 by Hayley Robinson
A mum who wanted to fulfil her three dearest wishes before she died has lost her battle against breast cancer.
Zoe Smith, a former Westlands School pupil, died at the Wisdom Hospice.
Over the last year, friends and family organised several fundraising events and raised £3,000 to help her make her dreams come true - but only two become a reality.
They were marrying her partner of 12 years Adrian Bullen, known as Adie. The couple wed at the King Charles Hotel, Gillingham, on August 26.
She also saw their eight-year-old daughter, Frankie, Christened in the hospice's chapel two days before she died.
Hopes of going on a family holiday to Disneyland Paris were dashed after Zoe suffered a stroke at the family home in Detling Close, Twydall, on March 16.
She was admitted to the Rochester-based hospice the following day on what was her 36th birthday.
Mr Bullen, 48, was at his wife's beside when she passed away along with his two children from a previous relationship, Mia, 21, and Kenrick, 19, his older brother Andy, and Zoe's sister Tracy.
The couple decided that when the time came Frankie shouldn't be there.
He said: "I didn't want her to see her mum die. She was frightened, she was scared. She asked me for help and said she didn't want to die.
"She suffered for five years with it [cancer], I've never known anyone so brave.
"I promised Zoe I would take Frankie to Disneyland, she asked me to, and I am determined to take her.
"Frankie's a real credit to her mum, she's being so brave and so strong."
Zoe, who worked as a kitchen assistant at St Margaret's Cof E School, Orchard Street, Rainham, was cremated at the Garden of England Crematorium, Bobbing, last month.
Around 200 people attended the funeral service which was followed by a wake at the Plough and Chequers Pub, in Gillingham.