Kyai Calver is 'the one and only'
by Hayley Robinson
hrobinson@thekmgroup.co.uk
In the words of The Beatles 'Help, I need somebody...'
Kyai Calver was the only youngster to sign up after a new junior choir was set up at St Michael's Church in Sittingbourne.
Although not unhappy to be the one and only, he is appealing for other children to get involved.
The eight-year-old attends choir practice at the High Street church every Friday from 7.15pm. He then joins the adult choir section at 7.45pm to practice hymns for the Sunday service.
Kyai, of Dalewood, Sittingbourne, said: "I decided to join because I like to sing and I like the operatic sound of things.
"Sometimes I find it quite fun because the adults take care of me but I would like some more children to join.
"It's great fun and I really enjoy it so I'd like more people to come along."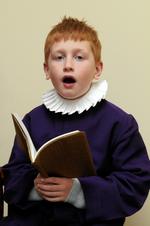 Mum Sarah said: "When we first went along we were expecting lots of others - there wasn't but he was quite happy to go along and sing.
"They've been trying to get others along but it's hard to reach people. Hopefully this might encourage others to come along. It would be nice for him to have other children."
Andrea Don, who formed the junior choir section a month ago, is looking for girls and boys aged seven to 14 to join as well as new members aged 14 plus for the adult section.
She said: "The idea was that if we got the juniors in they would enjoy it and carry on into the adult choir so there would be a constant flow.
"We are looking for all voice parts to join us - trebles, sopranos, altos, tenors and basses.
"The junior section meets every Friday at 7.15pm and we rehearse for half-an-hour in the church tower room so people come in through the church tower door.
"Our choir is also a member of the RSCM (Royal School of Church Music) and we offer the Voice for Life training course to our members - this is split into levels of experience and skill, and upon completion of each module, the chorister is presented with a medal. Voice for Life is open to all ages and ability."
Anyone interested in joining the choir is asked to contact Andrea on 01795 429546 or email stmichaelschoir@rocketmail.com