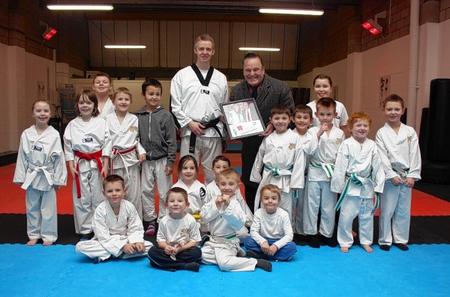 A taekwondo club has been inspired after receiving a special gift signed by the sport's Olympic gold medallist Jade Jones.
Whistling postman Dale Howting framed a franked envelope signed by Jade, with the Royal Mail stamp printed in her honour after her victory, age 19, in the 57kg category at the London Olympics.
Garry Foster, chief instructor at TSA Taekwondo on the Eurolink Industrial Estate in Sittingbourne, said that it was a fantastic occasion and followed on from charity stalwart Dale's visit with his Olympic Torch.
He said club members were delighted to receive the gift, which included a photograph of Dale with Jade, who he met at a charity dinner.
Mr Foster said: "Some of our club members were lucky enough to see Jade's victory at the Excel Arena in London.
"We are starting to move over to the Olympic style of taekwondo, using body protectors, and the whole culture of our club has changed since the Olympics."