by Rachael Woods
A war memorial damaged when a tree crushed it in the great storm of 1987 will finally be replaced 25 years later.
Campaigners have never given up hope of restoring the monument at Holy Trinity Church, Milton Regis to its former glory.
In February a mystery donor stepped in to offer £15,000 to meet the £35,000 cost of replacing the memorial after congregation member Keith Nevols wrote to the Sunday Telegraph's Save our War Memorials campaign.
Sculptor Elliott Brotherton has reached the final stages of the project and on Monday will be laying a concrete foundation at the site in preparation for installing the finished monument over the course of the week.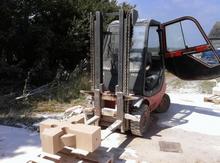 Mr Brotherton, whose studio is at Ivychurch, said: "I got the commission for the memorial in 2008 and it's been a long wait for funds to be raised, but it's fantastic to see it all come to fruition.
"My main concern was to finish the project in time for Remembrance Day, which I'm pleased to say has been achieved."
The monument is made of portland stone, limestone and Welsh slate and Mr Brotherton says the design is based on the original, but with modern elements.
Plans to use a metal plaque to bear the names of the war dead were dropped after fears that the monument would be targeted by metal thieves, and slate was used instead.
Elvie Lowe, Milton Regis War Memorial Committee's publicity officer and former Swale councillor, said: "I have been laying the Swale council wreath at the site for years but it's just been a piece of stone, so it will be lovely to see the memorial in place.
"We have been pursuing the project for a long time, but it had been drifting, especially as the recession made it harder and harder to raise funds. It so important that the old soldiers who go to the church are seeing this happen in their lifetime."