Ramsgate coma victim Gareth Harnett who died twice in hospital in Thailand is recovering at home and has a very special message for his friends, family and the people of Thanet - "I owe you everything, from the bottom of my heart."
The 29-year-old collapsed with a heart attack on holiday in Phuket last month.
His friends with him in south east Asia and the people back in Thanet mounted an immediate fund raising campaign via social networking sites on the Internet to pay for life-saving medical treatment.
He needed urgent transfer to a private hospital after local medical staff warned the first health centre where he was taken- which had stray dogs walking around the wards - would not give him a good chance of high quality treatment.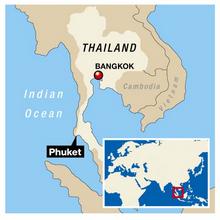 Speaking from his home in Woodford Avenue, Gareth said: "I am lucky to be alive - I am told I flatlined twice after the heart attack.
"I owe everything to my mates who were with me who put up thousands of pounds initially to get me into a well-equipped hospital where I stood a chance.
"People back home in Thanet then started donating and raising money straight away to keep the fund going. I cannot thank them enough."
Gareth recalls the moment just before he lost consciousness and his nightmare began.
He said: "I had a few drinks and was aware that I was feeling very poorly with a very tight chest.
"I headed for the health centre near where we were staying and all I can recall is seeing a sign of a red cross as I went in.
"Then I knew nothing until I came out of the coma to see my mates standing around me.
"It must have murder for my friends with me and at home, going through all that."
"i am lucky to be alive - i am told i flatlined twice after the heart attack.
" – gareth harnett
Childhood friend Patrick Dyett, who immediately put £6,000 towards Gareth's hospital fees, confirmed it has been a huge strain on the group, watching their lifelong pal battle back from a coma and his recovery in intensive care.

"It was been a tough time mentally for us out there. We can't thank everyone enough for their support."

The fund-raising campaign stood at around £10,000 on an online pledge site, with more raised in Thanet.

Once all the expenses had been paid there was still around £3,000 left, which Gareth and his pals are donating "on behalf of the amazing people who donated" to the Thanet Hospice at Margate.

He added: "People moan and complain about some of the people in Thanet but I tell you, the community spirit is amazing - they are all real diamonds."

Now Gareth is planning to take things easy and put his life back together.

He said: "My chest and ribs still hurt from the bruising from the CPR treatment but I have seen a private specialist and I have been given a clean bill of health.

"Now I'm off the fags and drink and aim get myself healthy and start a new life with the chance I have been given."