A drunken son grabbed his terrified mother's hair and held a kitchen knife to her throat, snarling: "I'm going to kill you. I'm going to cut your face apart!"
Samuel Ward, 20, had lost his temper after a family row about "rumours and gossip" about his girlfriend's fidelity.
Mother Amanda Ward ordered him to leave - but was then attacked by her son who threatened to firebomb the house.
A court heard although she believed the death threats, she has since forgiven him – and sent a letter to a judge telling how Ward (pictured right) was a good son when sober.
But her plea did not stop Ward, of St Peter's Footpath, Margate, from being jailed for two years for making threats to kill, criminal damage, assault and making threats to damage property. He had admitted the five offences.
Judge Simon James praised Mrs Ward, who despite her son's "appalling behaviour", for the letter – even though she still refuses to allow Ward back into her house.
He told Ward: "Her forgiveness and compassion is to be commended and you are fortunate to have your family's support and an opportunity, over time, to build bridges."
Prosecutor Vivian Walters told Canterbury Crown Court how the bust-up began in December after Ward arrived drunk at the house.
The row began over his girlfriend's faithfulness during a relationship break, resulting in Ward smashing a drawer.
"Mrs Ward was upset and screaming and he then picked up a bread knife and put the blade to her throat saying: 'I'm going to kill you.. I'm going to cut your face apart!'
"She seriously feared he would cut her throat – and could smell the alcohol on his breath."
"her forgiveness and compassion is to be commended and you are fortunate to have your family's support" – judge simon james to ward about his mother
A family friend managed to disarm Ward, who then claimed he was having an asthma attack and was released.
But he tried to pick up the knife again to carry on "his tirade of abuse" which resulted in his threats to petrol bomb the house.
He screamed: "I am going to petrol bomb your home, bitch. I wish you were dead", before punching a window as he left the house with his girlfriend.
Mrs Ward, who suffered bruises and cuts in the attack, would later tell police: "When Samuel becomes drunk he gets violent. When he said he would burn down my house, I believed he was capable of doing it."
The judge told him: "You made those threats knowing your mother, sister and 11-year-old brother shared that house.
"Your own mother also believed that when you are intoxicated you are capable of carrying out that threat.
"Apparently angry and frustrated about learning about the alleged infidelity of your partner, you chose to take things out on your mother.
"I accept that in the cold sober light of day you genuinely regret what you have done. But this is far too serious for a sentence of anything but an immediate custodial sentence."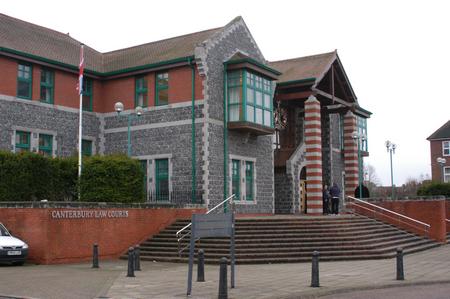 Judge James said he hoped Ward would have "the courage" to seek help with his drinking problems after being released.
Kerry Waitt, defending, said: "He had drunk a great deal of alcohol that day and there were tensions within the family because he had recently got back with his girlfriend and there were rumours and gossip about what she had been doing when they were separated.
"That was the catalyst which sparked the incident."