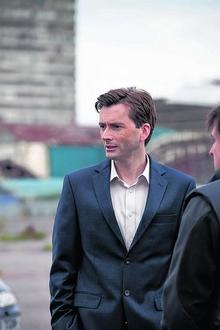 by Karina Barker
This exclusive picture shows former Doctor Who star David Tennant on the set of a new TV drama being filmed in Margate.
The 40-year-old actor is playing the lead in one of five interlinked episodes centering on the same seaside town.
The series, called Love Life, is being made by BBC Drama and will also star Tennant's time-travelling companion Billie Piper in a separate episode. The dialogue will be largely improvised, in a first for BBC One drama.
And the good news is that if you are aged between 20 and 45 and would like to be on TV, you could play a part in the programmes.
Extras are needed, and anyone interested should call the Casting Network on 0208 391 2979 during office hours.
Successful applicants will only required for one or two days. A standard filming day is 7am-7pm so the roles are not suitable for those in full-time work.
All meals and drinks are provided free of charge on set.
Others stars due to appear include Jenny Agutter, Jane Horrocks, best known for playing Bubble in Absolutely Fabulous, and Lacey Turner, otherwise known as Stacey Slater from EastEnders.