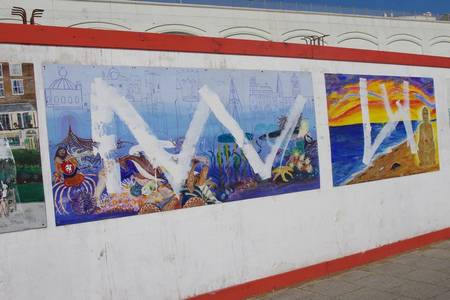 A landmark art project loved by locals has been attacked by vandals.
The Great Wall of Ramsgate was was given the Town Image Award by the Ramsgate Society after members decided it had made a significant contribution to the appearance of the town.
A total of 67 of the pictures on the wall that surrounds the site of the former Pleasurama amusement park at Marine Esplanade were covered in graffiti on Sunday night or in the early hours of Monday morning.
The 1,000ft wooden wall sports more than 100 paintings, almost all by local people, both professional and amateur.
The artwork represents Ramsgate past, present and future and forms what is thought to be one of the largest outdoor art galleries in the UK.
Tens of thousands of people have enjoyed the art since its conception in 2011.
The wall is due to remain in place until the Royal Sands development of flats, shops and restaurants is completed. Plans have been under way to find a way to keep the wall on display after it opens.
Dozens of local artists contributed to the project, along with pupils from local primary schools and no public money was used putting together the project.