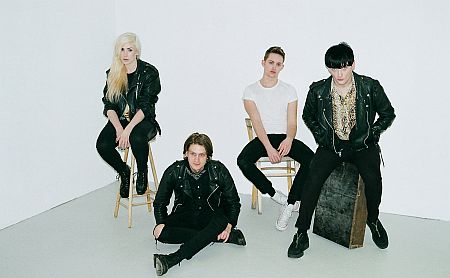 Two Wounded Birds
by Jamie Stephens
High-flying Thanet band Two Wounded Birds are returning to the roost to open Tracey Emin's first exhibition at the Turner.
Margate's second biggest export since Emin first started embroidering tents, it's a fitting homecoming for a band who have spent the last year rubbing shoulders with some big names.
Despite mixing with the likes of Brian Wilson, Debbie Harry and Edwyn Collins, the band still very much have their feet on the ground:
"We're looking forward to playing a show in Margate as we don't get the chance that often," says frontman Johnny Danger.
"There's a nice atmosphere around the place with everything that's been happening over the last year.
"It's what Margate's needed for a while; it gets a lot of bashing in the national papers and hopefully those 'journalists' will be eating their words now.
"We're proud of where we're from, so it's not on to see the town torn apart by some jumped-up toff."
It was Emin who asked them to open the "She Lay Down Deep Beneath The Sea" exhibition after seeing their video for "All We Wanna Do", which was shot in the town and features her artwork.
"She called us to tell us she loved the song and asked us to play. It'll be good joining forces with someone else from Margate who has a strong sense of place and direction in their work."
It's not just Emin excited at the promise the band have shown over a clutch of critically acclaimed singles. Debbie Harry is a big fan while music mogul and Warner VP Seymour Stein described them as "the best rock 'n' roll band since the Ramones". Not bad coming from the man who discovered Madonna and signed Depeche Mode, The Smiths and Ice-T.
Even Beach Boy Brian Wilson, one of Johnny's biggest heroes, has praised their sense of melody.
"Brian invited us to his shows in London and we hung out with him. It really didn't sink in. I was just stood there looking at his head thinking of all the great music that had come out of it.
"The man's a genius. There are not many people who can write music that immediately transports you somewhere else, so to think he's heard something in our music is unbelievable. But you can't dwell on it too much. You do that and you stop going forward."
In between extensive worldwide touring, Two Wounded Birds have been busy recording their self-titled debut album, released on June 4 on the label of all-round indie darlings the Drums. Guitarist Jacob Graham isn't surprised the surf-rockers have been making such big waves:
"It's easy to see why they've caught the ears of such legends as Brian Wilson and Debbie Harry. Their songs capture the American spirit with clear allegiances to the Beach Boys, the Ramones and Elvis while still acknowledging the band's British roots.
"You won't hear any Elton John-style American accents here; Johnny's sound recalls the tones of Colin Blunstone in his Zombies heyday. It's a voice with true character."
It's an apt description. Yes, their songs channel fifties Californian beach vibes but are shot through with a healthy dose of British cynicism and more than a touch of the sinister. Their music pays homage to a classic era of American song-writing, cars and girls, but Two Wounded Birds are more about stalking the beach at midnight looking for mischief.
West Coast meets east Kent, it's a sensibility honed by a band who spent their formative years kicking their heels and haunting the seafront arcades. Pop songs for sure, but pop songs delivered with the threat of menace, tons of reverb and a bag of chips and a brawl for afters.
"We're just a rock 'n' roll band," insists Johnny, "but if all those name checks mean people go out and listen to people like the Beach Boys then I'm more than happy."
"I think people will be surprised by the album though. If they're just expecting surf-rock from us then this will have them thinking again.
"You would not believe how frustrating it's been being sat on the album since last November. I've been excited for people to hear it. Not long now though..." he says.
It's been a tumultuous 12 months for both Margate and the band but when the debut hits record stores next month, a humble seaside town on the east Kent coast fast reawakening from a fifty-year slumber will have yet another thing to sing proudly about.
Two Wounded Birds play the Turner Contemporary's Foyle Rooms on Saturday, May 26. Tickets £5/£4 concessions
˜Two Wounded Birds" is released on Holiday Records on June 4. Hear a sneak preview here: http://soundcloud.com/workit/two-wounded-birds-the-outer