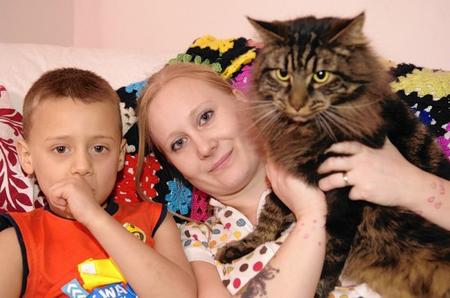 A disabled mother braved a nine-hour 350-mile round trip to reunite her young son with a beloved pet - that had been missing for 18 months.
Jake McNeill, five, was devastated when his tabby cat Tinkerbell disappeared in July 2011.
For months he asked his mother Amy when the cat would be back, but there was no trace.
Then, earlier this month Amy received a phone call from a vet's surgery to say Tinkerbell had been found safe and well - in Warwickshire.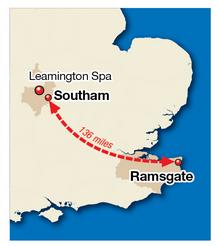 Amy, 26, who suffers from the debilitating spinal condition ankylosing spondylitis and walks with the help of two sticks, set off on the journey to bring him home.
Speaking from her home in Brunswick Court, Ramsgate, she said: "I couldn't believe what I was hearing when Vicky from the vet's surgery called.
"She said they had managed to trace Tinkerbell through his microchip.
"I've moved house since it was inserted, but she did some detective work and found us. We have absolutely no idea how he ended up so far away, but I knew I had to get him back."
Amy travelled by train, tube and taxi to get to the surgery in Southam, seven miles from Leamington Spa.
She said: "My family said I was mad to make the journey, but I did it. I couldn't have rested knowing that Tinkerbell was safe, but too far away.
"However, on the way home, I did wonder if I'd done the right thing because trying to carry a well-fed cat in a carrier onto two trains and the Tube while walking with sticks is pretty difficult.
"But luckily, a few kind strangers took pity on me and helped every step of the way and if it hadn't been for their kindness, I don't know how we would have made it home."
"jake burst into tears when he saw him, he was so happy. tinkerbell rolled around as if to say 'i'm back' " – jake's mum amy
Amy is telling her story partly to thank everyone who helped her. She said: "It's been amazing to see how much people will do to help someone who needs it."
Amy is particularly grateful to student veterinary Vicky Gresty at Avondale Vets in Southam, who managed to track her down.
She said: "Vicky didn't give up. When she realised the phone number on the microchip wasn't right, she phoned the vet who had inserted it and they phoned me. The staff at Avondale were all so lovely.
"Then there was the taxi driver who picked me up from Leamington Spa station – he waited outside the vet's for over an hour and took me back to the station but only charged me a fraction of the cost."
Amy said the trip was worth it to see the look on Jake's face when Tinkerbell arrived home.
She said: "Jake burst into tears when he saw him, he was so happy. Tinkerbell rolled around as if to say 'I'm back' and they've been inseparable ever since."
Practice manager Diane Goddard said Tinkerbell was brought to them as a stray and was having a routine check-up before rehoming. The vet scanned him as a matter of course, but we were surprised with the result.
"He was very healthy and had been well looked after.
"Perhaps he jumped into a delivery van in Kent. We don't know how he got here but he obviously decided it was time to go home."