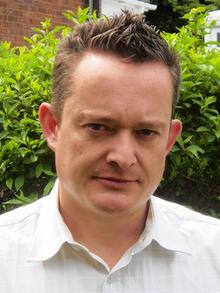 by Peter Barnett
A police investigation is under way after a "death threat" letter was sent to a Thanet councillor who says he is at the centre of a homophobic campaign.
Independent Cllr John Worrow, who represents Birchington South, said the hand-written letter, with a Medway postmark, was received at his home in the village on Saturday.
He said it makes a remark about the equal marriage debate in the House of Commons, an issue which the bisexual councllor has publicly supported.
He said: "The letter reads, 'No doubt you are gloating over winning the Commons vote on February 5.
"However you won't gloat in hell. The flames of hell burn forever. Repent or perish. Turn or burn.'"
Cllr Worrow handed the letter into Margate police, who he said are "taking the matter seriously".
He added: "I cannot just ignore something like this. Who knows what kind of people are out there.
"It is either someone who has got a very sick sense of humour or more likely someone who vigorously disagrees with my political and personal views.
"you won't gloat in hell. the flames of hell burn forever. repent or perish. turn or burn..." – letter sent to cllr john worrow
"I do feel it is part of an ongoing campaign and that's why I have gone to the police."
Last week, Cllr Worrow announced he is stepping down at the next election and claimed the "heterocentric attitude of intolerant Conservatives" had led him to the decision.
Last May, Margate Tory Cllr Ken Gregory was cautioned by police after leaving a voicemail on Cllr Worrow's phone saying he "hoped he died of Aids".
In January, a council-appointed investigator ruled Cllr Worrow breached the members' code of conduct after he called several councillors "homophobes" at a Thanet District Council meeting in July.
Cllr Worrow, the council's lead member for equalities, said he used the word in no particular context - and accused his fellow councillors of "harassment".
He has written to Kent police commissioner Ann Barnes, asking her to look into the issue.
He plans to continue to represent the ward until 2015, when the next election is due to be held.