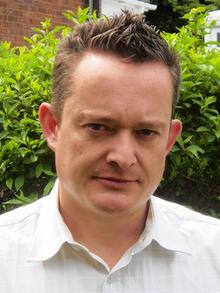 by Karina Barker
A Thanet councillor at the centre of a row about alleged homophobia has announced he is stepping down at the next election.
Independent John Worrow, who represents Birchington South and is bisexual, said the "heterocentric attitude of intolerant Conservatives" had led him to the decision.
It is the latest twist in a saga that began in 2011 when former Tory party member Cllr Worrow, pictured right, resigned the party whip and became independent.
The Conservatives lost their majority of one, and the balance of power shifted to Labour.
Last May, Margate Tory Cllr Ken Gregory was cautioned by police after leaving a voicemail on Cllr Worrow's phone saying he "hoped he died of Aids".
In January, a council-appointed investigator ruled Cllr Worrow breached the members' code of conduct after he called several councillors "homophobes" at a Thanet District Council meeting in July.
Cllr Worrow, the council's lead member for equalities, said he used the word in no particular context, and accused his fellow councillors of "harassment".
He has written to Kent's Police Commissioner Ann Barnes, asking her to look into the issue.
Cllr Worrow said: "While this was a tough decision, I've realised that the current system is incompatible with the modern way of thinking.
"Minority groups will always have to deal with intolerant councillors, and as a police investigation found that I was the victim of a homophobic incident, it should not have needed a separate council investigation to see why I used that word."
Cllr Worrow said he would continue to represent the ward until 2015, when the next election is due to be held.