A teenager raided the home of two pensioner brothers – "in the dead of night" - stealing family heirlooms, televisions and car keys.
Baz Hockton broke into their home in Northdown Road, Margate as the brothers slept – and swiped a box containing the deeds to their graves!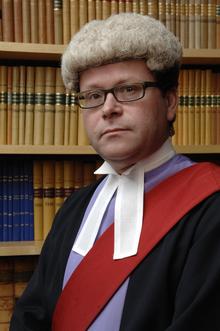 After admitting the burglary, the 19-year-old – who already has 31 previous convictions – claimed HE was the victim of a tragic upbringing.
But Judge Simon James (pictured right) jailed Hockton after telling him: "I have read about your young life and it is obvious you are the product of a tragically difficult and troubled upbringing.
"And whilst it is almost impossible not to have sympathy with someone who has gone through what you have, there comes a point when you can no longer hide behind your unfortunate life story."
He sent the youngster, from Archway Road, Ramsgate to a young offender's institution for 16 months after he admitted burglary.
Prosecutor Vivian Walters told Canterbury Crown Court how Peter Scrase and his older brother, who is 90, had gone to bed.
While they slept, Hockton broke in through the back door and stole two televisions, their father's retirement pocket watch, two other watches and their mother's engagement ring, the deeds and bank cards.
"In monetary value, £3,300 worth of items were taken but the sentimental value to the brothers was much, much greater, " she added.
She said that within five hours of discovering the raid, Hockton and another man were spotted selling some of the items at a local jewellers shop less than a mile away.
"you violated their homes and i am quite sure their sense of worry and unease ... that you were creeping about in their home in the dead of night will last long after the financial loss" – judge simon james
The prosecutor said Hockton was arrested at a friend's house where other stolen items were discovered, including the deeds.
Andrew Espley, for the teenager, denied Hockton had deliberately targeted the vulnerable brothers.
The judge said the teenager had "entered the home of two elderly brothers, one of whom was in his 90s. Whilst they were upstairs asleep you systematically set about removing everything of value that you could find."
He added: "Among the items you stole was an engagement ring belonging to your victim's mother and a watch given to his father for 50 years of service on the railways. It is difficult to image items of greater sentimental value.
"Then to add insult to injury you also took your victim's car keys, rendering his vehicle - which he and his brother depended upon for their mobility - effectively unusable.
"You violated their homes and I am quite sure their sense of worry and unease in general by the knowledge that you were creeping about in their home in the dead of night will last long after the financial loss."
A second man has now been charged with burglary and will appear before magistrates next month.