by Julia Collins
A Ramsgate mother has told how proud she was of her "gentleman" motorcyclist son after he was killed in a crash.
Jack Huckle, 20, died after coming off his bike in Ashford last Thursday - close to where he worked at Laguna Motorcycles.
Affectionately known as "Chuckle Huckle" to his friends, he was described as "a beautiful person, inside and out".
His mother Dawn Huckle said: "Jack was popular with every person he met, well-loved and respected because he was so helpful and very thoughtful, so considerate of other people.
"He was a lovely young man and a very talented musician. He played piano, guitar, saxophone and mouth organ and could play anything from classical to heavy metal."
Kent Police today appealed for a driver who could be an important witness to come forward.
Officers want to speak to the motorist driving a dark-coloured vehicle believed to have been behind Jack before he came off the bike at about 10.10am.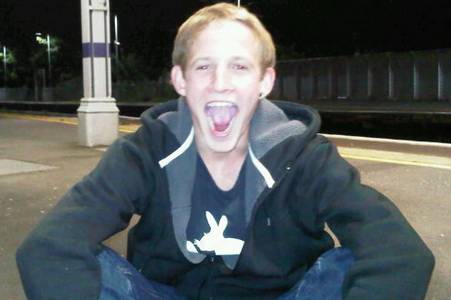 Emergency services were called to the A2042 Romney Marsh Road after Jack crashed on the orange Triumph Daytona motorbike.
Medics battled to save his life, but he was pronounced dead at the scene.
Jack was born in Ramsgate and went to Christ Church primary school and then the former Hereson boys' school in the town.
Dawn said his love of motorcycles was present from an early age.
She added: "Since he was a young lad he wanted to be a motorcycle technician and he'd been doing his dream job at Laguna for four or five months.
"He'd gone to Canterbury College and K College at Dover to become a motor vehicle mechanic. He had a very impressive CV for such a young man - he worked hard to achieve his goals.
"While on the course at Dover he worked for a year at Dave Hammond Racing in Dover to gain more practical experience."
Jack lived in Ramsgate with his mother, nephew Lee and his grandmother. His older brother and sister, Gareth and Becki, live close by.
Dawn said: "He was such a gentleman, one night he was out with friends in Ramsgate when he met a girl who was the worse for wear and didn't have her friends with her.
"He got her back to Westgate in a taxi, but had to walk home because he didn't have enough money to get back to Ramsgate himself. She was a total stranger, but he took on that responsibility to help her."
"he was such a wonderful young man, i'm so proud of him and so glad that he was mine..." – dawn huckle
Jack's family have set up a Facebook tribute page and the comments left by dozens of friends and colleagues have brought comfort to his grieving mother.
She said: "His friends called him Chuckle Huckle, he had a cheeky smile and everyone, young and old, found him endearing. He was a beautiful person, inside and out.
"I'm so proud to have had such a lovely son and people have shown him so much respect online.
"One young lady even wrote that he had inspired her and helped her to see the best side of herself. There are so many wonderful tributes.
"He was such a wonderful young man, I'm so proud of him and so glad that he was mine."
"At least he was doing what he wanted to do when he died. Although we're in an awful place right now, I'm so glad he fulfilled his dreams as far as he could."
The driver of the dark-coloured car or any other witnesses who have not yet spoken to police are asked to phone PC Mick Sayer or DS Miles Bishop, at the Kent Police Serious Collision Investigation Unit on 01622 798538.
Did you know Jack Huckle? Leave your tributes below.