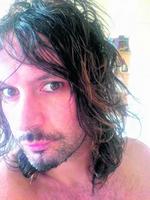 by Julia Collins
Eagle-eyed TV talent show viewers may have spotted one of Ramsgate's own taking part in auditions for The Voice.
Singer Marc Eden (right) got down to the last 40 out of 65,000 hopefuls and brief clips of his performance were shown during the blind audition stage of the BBC programme.
But he took a bit of persuading before agreeing to perform in front of celebrity judges including singers Tom Jones and Jessie J.
The 40-year-old, who lives in Wellington Crescent, said: "I said no to it at first, but my manager convinced me to take part.
"But just before my blind audition I was left in the green room for eight hours and I was rather inebriated when I took to the stage and I fell off it straight into Will.i.am's arms.
"I didn't get through to the last 16, but I'm used to the pressure of performing and I think I did a good job. I had gone through five stages already and it was fun but I couldn't have won it anyway."
Marc, who was born in Margate and went to Dane Court school, has been a singer since moving to London aged 17.
He said: "I worked as a courier for a few years and started playing pubs. I was with a band called Seven when I was about 25, who were signed to Telstar, and I got to know producer Matt Wallace.
And that meeting led to the chance to work with childhood hero Slash from Guns 'n' Roses. "I went over to LA for a month and we wrote four songs together, it was amazing to work with him because Guns 'n' Roses were my idols when I was a kid."
And Marc is planning a series of gigs a little closer to home next week with another band called The Swankers.
He has also been with his band Men & Gods for four years.
He said: "I moved to Ramsgate in June because I wanted to come home and I missed the sea and friends and family."
For his full story, see the Thanet Extra, out on Wednesday April 25.
The Swankers are performing at Mariner's Bar, Ramsgate on May 3, The York Arms, Ramsgate, on May 4, Northwood Club, Ramsgate, May 5, The Bellevue Garden Party, Pegwell, May 6 and Churchill's, Ramsgate on May 7.