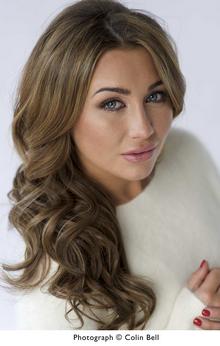 She has seen her life played out in the tabloids and TV, and now she is telling her story in her own words.
Lauren Goodger shot to fame in 2010 when she featured in the first series of ITV2 reality show The Only Way is Essex.
Since being then she's gone from working as a secretary and trying to build a life with her long-term on-off boyfriend Mark Wright, to living in a celebrity whirlwind, battling heartbreak and sometimes brutal tabloid attention.
Now fans in Kent have the chance to meet her in person, as she will be in Maidstone to sign copies of her new autobiography, Secrets of An Essex Girl, aimed at lifting the lid on her life behind the headlines.
Lauren, who now runs her own salon and beauty business Lauren's Way, said: "A lot has been written about me over the last couple of years and this is my chance to tell my story in my own words and set the record straight. I've been very honest and open and I hope everyone enjoys it."
Lauren will be signing copies of Secrets of an Essex Girl, priced £14.99, from 1pm at Waterstones in Fremlin Walk, Maidstone, on Wednesday, February 20.