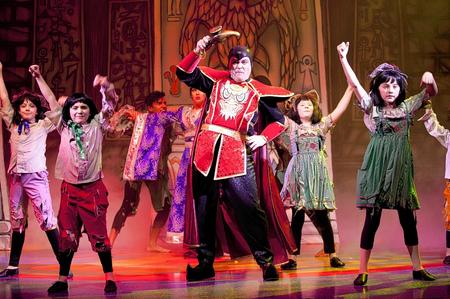 Review: Aladdin, Orchard Theatre, Dartford
by Chris Price
It can be hard for a pantomime to feel original but the new 3D effects in Aladdin are a master stroke. Panto's traditions of slapstick humour and audience interaction blended beautifully with the chance to rub the lamp, which floated out towards the bespectacled faces of parents and children.
Then screams usually reserved for rollercoasters filled the auditorium as spiders, bats and snakes got squeam-inducingly close to little'uns expecting cutesy, frilly fun.
Leading man Steve McFadden played up to his cockney-geezer image with an outrageously East End persona but funnyman Matt Slack was the star as Wishee Washee, daft as a brush throughout.
A small criticism might be that Steve appeared to feel a little above his co-star's goofing and gyrating. He never, for want of a better term, let his hair down. Yet he came across as a real fiend as Abanazar – who the kids loved to boo – especially when standing with fresh-faced Luke Newton as Aladdin, who recently graduated from the London School of Musical Theatre.
No one in the audience would have known that Nicola Meehan, playing the Princess, is a proud Scot, such was her masked accent. She definitely perked up a few sleepy dads.
A lot of the humour is aimed directly at adults, with the 3D genie and Slack's dodgy dancing designed to entertain the children.
The unexpected star was Masashi Fujimoto as the Emperor – several deliberate instances of over-acting his Japanese roots, even though the story is set in Peking, were hilarious. How would Phil Mitchell put it? Nice one.Aladdin runs until Sunday, January 6. Tickets £18 to £29.50. Box office 01322 220000.