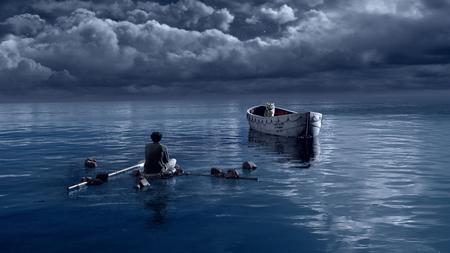 My movie week with Mike Shaw
» Despite all the money and groupies, there are downsides to writing newspaper columns. Among them are the strict deadlines enforced over Christmas and other holidays by terrifying editors.
Take, for example, my Top 10 films of 2012 list, published at the end of the year. Due to the print schedules, the piece had to be in quite a while before the end of the year, which meant I hadn't yet seen the gorgeous, gorgeous Life of Pi.
Let me set the record straight now – if you still have the last What's On of 2012 kicking around your living room, open it up to the cinema page, find my column, scribble out where I listed The Dark Knight Rises and replace it with Ang Lee's glorious adaptation of Yann Martel's book. The acting from first-timer Suraj Sharma is remarkable, while the direction and cinematography are simply astonishing.
With some of the best 3D I've ever seen, this film begs to be seen on the big screen, so if you haven't caught it yet do so while it's still in cinemas.
» Quentin Tarantino's latest film, Django Unchained, hits cinemas on January 18, but you can warm up by watching his first feature on the big screen again.
On Tuesday, January 15, Ashford Cineworld has a special screening of the bloody, controversial heist film Reservoir Dogs. Watching 20 years later (20 years!), it's hard to understand why such a huge fuss was made when this film was released back in 1992 but, for a long time, Reservoir Dogs was the tabloid "video nasty" bogeyman of choice. It's certainly no longer shocking, but it's still brilliant.
Click through to Cineworld's website for more details.
» Last week a trailer for the Evil Dead remake landed and shocked even hardened horror fans with its gore levels.
Since being announced as director, Fede Alvarez has promised to take the Evil Dead series back to its filthy, lo-fi roots, and from the short clip released, he seems to have been able to do that – and he's done it by completely avoiding CGI.
Alvarez said: "We didn't do any CGI in the movie. Everything you will see is real, which was really demanding. This was a very long shoot, 70 days of shooting at night."
"There's a reason people use CGI," he continues. "It's cheaper and faster. I hate that. We researched a lot of magic tricks and illusion tricks. We really pushed the boundaries, trying to create those illusions."
The trailer is surprisingly brutal, and Alvarez promises that the teaser represents the finished product: "It has a particularly bloody ending," said the director. "The last scene… I want it to be the bloodiest scene ever. And I think it is."
Most filmmakers today take the easy route and go for CGI when they need something out-of-the-ordinary. Hell, most dramas and comedies have digital elements added in, when the sky doesn't look right or the leading man is too drunk to stand up straight.
These days, the only times we really encounter films without any computer trickery is when they are very, very low budget. So it's refreshing that we have a movie with a proper budget, and big things expected of it, where the director has chosen to make things look as real as possible. While this looks a little too close to the silly torture porn that I thought had died out a few years ago, I respect what Alvarez is trying to do. The film's out in April… if it's your kind of thing.
» They say things come in threes, and that certainly seems to be the case with movie adaptations of hugely popular mega-selling video games. Assassin's Creed is being made into a film, starring Michael Fassbender; Splinter Cell is coming soon, with Tom Hardy in the lead; and now, Tom Clancy's Ghost Recon is being prepped for multiplexes.
Studios have a lot of faith in these releases. Assassin's Creed and Splinter Cell both have budgets in excess of $100 million, and will be released no earlier than 2014.
So far there have been 12 Ghost Recon games, so there's a lot of material to choose from, although the franchise is less story-based than Assassin's Creed and Splinter Cell – preferring to focus on combat and hi-tech weapons.
There has actually been an attempt to dramatise Ghost Recon previously, with a 25-minute short film called Tom Clancy's Ghost Recon: Alpha. Catchy title, right? No dates have been set for any of these films, but the Ghost Recon short film is on YouTube if you're interested.