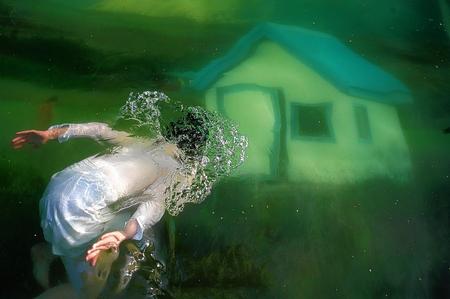 David Hockney's work is part of an exhibition inspired by fantasy, fairy tales and nursery rhymes at Canterbury's Sidney Cooper Gallery.
From Grimm to Reality is a collection of artworks looking at how a child's imagination and the real world are connected by stories.
A key work is Illustrations for Six Fairy Tales from the Brothers Grimm by Yorkshireman David Hockney, one of the most influential British artists alive.
It sits alongside Paula Rego's nursery rhyme etchings and Anya Gallaccio's Preserve Beauty. Other highlights include Jane Edden's Ideal Home sculptures, Tessa Farmer's Miniature Worlds, Joel Ely's Thinking Bear, Ana Maria Pacheco's Misfortunes of a Sardine and Susanna Majuri's fantastical photographic landscapes, pictured above.
The Sidney Cooper Gallery's curator Hazel Stone said: "Imagination and art are intrinsically linked.
"Visitors to this exhibition will see a range of works which engage with the rich tradition of storytelling, which has been passed down by generation to generation. From Grimm to Reality identifies and explores the imagery of this tradition making connections that maintain and echo the magic of these childhood stories, whilst unfolding new narratives, characters and places for the viewer to encounter."
The exhibition follows the 200th anniversary last month of the first publication of the Brothers Grimm collection of fairy tales.
It opens on Friday, January 11 and runs until Saturday, February 9. Closed Sundays and Mondays. Admission free. For more information call 01227 453267.