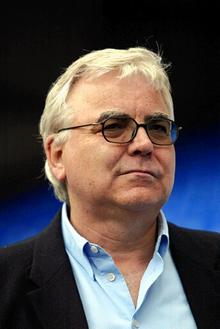 The UK's most successful theatre producer, Bill Kenwright, has chosen Kent to launch his latest jukebox musical Save the Last Dance For Me. His third major tour launch in the county, the Everton chairman told Chris Price he might be "a Kent boy deep down".
Less than two months after he closed the third-longest-running musical in history, Bill Kenwright is cheerful and friendly.
Blood Brothers closed in the West End in November after 24 years. It was making a loss by the end of its life there, hit hard by the Olympic Games, Euro 2012, the Diamond Jubilee and the lack of disposable income generally of theatre-goers.
Yet Bill, who is also the chairman of Everton FC, has picked his socks up like his team and is launching a new production based on the rock and roll tunes of Doc Pomus and Mort Shuman, being shown for the first time in Kent.
"It was a very difficult decision to close Blood Brothers in the West End but sometimes the difficult decisions are the right ones," said Bill, 67, whose long-term partner is actress Jenny Seagrove. "I believe in life everything happens for a reason, and, even more so, everything happens for the best."
As it turns out, there is a strange symmetry to Blood Brothers' closing and Bill's decision to launch Save the Last Dance For Me in the county, at Dartford's Orchard Theatre. Blood Brother's first tour also launched in Kent in 1987 at Canterbury's Marlowe Theatre, starring Kiki Dee.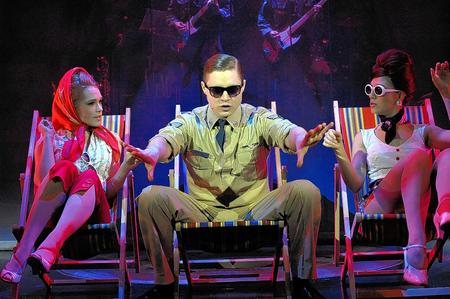 "Canterbury will always have a great place in my heart because I started Blood Brothers at the Marlowe. They have done ever so well at Canterbury. We were there with Dreamboats recently, which sold out. I love Bromley and there is always a great buzz at the Orchard in Dartford.
"Maybe I am a Kent boy deep down. Maybe the audiences are a bit akin to Liverpool. I am Scouser through and through but Bromley, Canterbury and Dartford – yeah. They are just a bit difficult to get to at times, in the traffic. Oh my God, that journey... but at the end of a journey is a rainbow and that is good enough for me."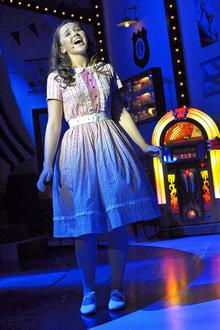 Bill's company is unique in world theatre, mainly because it does so much. The UK's largest independent production and theatre company, it is thought Bill employs more actors in a year than any other employer, bar the BBC.
"My mate Roy Marsden, the actor, came round the other night," said Bill, "and I said 'Roy is there ever a time when we think, that's it, we've done it now?'
"He said 'No, I don't think so. As your coffin goes down the aisle, you will pop out and ask if there are any new plays someone has come up with'. I don't think retirement is ever something that will come into my life."
That desire to engage his audience was shown in all its glory with the success of Cabaret over Christmas during a short West End run. Bill waited three years for Will Young to find time in his schedule to take up the role of James Dreyfuss as the unsettling master of ceremonies at the Kit Kat Club.
"It was well worth the wait. He has been quite sensational," said Bill. "It was one of the parts he was born to play and I hope, maybe, we can look at it again.
"Cabaret was one of the very few sell out hits in the West End last year. It has been an extraordinary success."
On the subject of success, Save the Last Dance For Me could easily be considered something of a safe bet in light of the triumph of Dreamboats and Petticoats, which was also launched at a Kent theatre, Bromley's Churchill Theatre in 2009. Since then, three million people have seen the show on stage. The sixth Dreamboats album, which the musical is based on, hit the charts over Christmas, selling six million copies, almost unheard of for a compilation.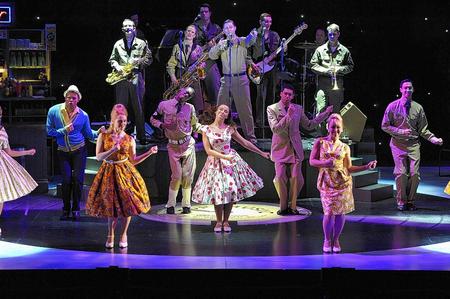 "There is obviously a huge amount of love out there for this type of musical," said Bill. "My only criteria ever when I put on a show is: would I want to go and see it? I love rock and roll and I particularly love the songs of Doc Pomus and Mort Shuman. They were part of the great early days of rock and roll. It is that era which thrills me the most."
Why, then, did he choose to launch such a show in Dartford, rather than a big London venue or one of the larger provincial theatres?
"You've got a very good management team there," said Bill. "There are three or four theatres around the country that seem to like my kind of rock and roll. Bromley is one and so is Dartford. We were approached and it just seemed to fit. The show has got a big advance and looks like it is going to be selling out.There are other theatre's that are great production houses, like Leicester and Plymouth, but I never thought of them for this one. When I was approached about Dartford, I said 'yeah, I like that'. The audiences in Dartford like my kind of rock and roll."
Save the Last Dance for Me, featuring the music of Doc Pomus and Mort Shuman, is at Dartford's Orchard Theatre from Wednesday, January 16, to Saturday, January 26. Tickets £21.50 to £31.50, concessions £2 off. Box office 01322 220000.
The show visits Tunbridge Wells' Assembly Hall Theatre from Monday, March 11, to Saturday, March 16. Tickets £19.50 to £26.50. Box office 01892 530613. It visits Canterbury's Marlowe Theatre from Monday, May 20, to Saturday, May 25. Tickets £18 to £36. Box office 01227 787787.