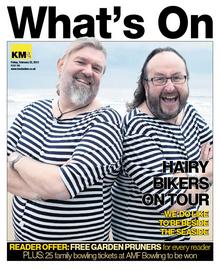 We talk to bearded buddies the Hairy Bikers, who are bringing their latest stage show to Kent
Get your hands on goodies from new 3D animated family movie The Croods.
From flamenco to hip-hop: don't miss our guide to the best dance events around the county.
Pop rockers Kaiser Chiefs bring their energetic live show to Margate's Winter Gardens.
Give your garden a spring clean with free secateurs for every reader.
Plus, enter our competition to win one of 25 family bowling tickets.
What's On is available inside your paid-for KM Group newspapers every week, including
Kent Messenger, Medway Messenger, Gravesend Messenger, Dartford Messenger, Sittingbourne Messenger, Sittingbourne News Extra, Kentish Express, Kentish Gazette, Faversham News, East Kent Mercury, Dover Mercury and Sheerness Times Guardian.
It's also available with digital editions of those titles.
If you enjoy What's On please become a fan on Facebook or follow on Twitter.
To contact editorial please email whatsoneditor@thekmgroup.co.uk or call 01622 717880.
To advertise please call 01622 794520.
To submit a free listing please click here.