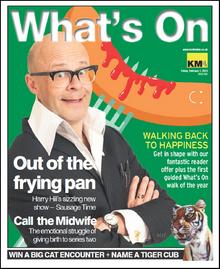 Harry Hill returns to stand up for the first time in six years with his new show, Sausage Time.
Win a family ticket to the Big Cat Sanctuary and get close to the lions and tigers.
The stars of Call the Midwife talk about the second series.
Plus, get out in the fresh air with the first of What's On's walks around Kent.
What's On is available inside your paid-for KM Group newspapers every week, including Kent Messenger, Medway Messenger, Gravesend Messenger, Dartford Messenger, Sittingbourne Messenger, Sittingbourne News Extra, Kentish Express, Kentish Gazette, Faversham News, East Kent Mercury, Dover Mercury and Sheerness Times Guardian.
It's also available with digital editions of those titles.
If you enjoy What's On please become a fan on Facebook or follow on Twitter.
To contact editorial please email whatsoneditor@thekmgroup.co.uk or call 01622 717880.
To advertise please call 01622 794520.
To submit a free listing please click here.