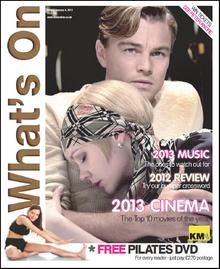 Read about the top movies tipped for success in 2013, including the Great Gatsby starring Leonardo DiCaprio and Carey Mulligan.
Win tickets to see Peter Andre in concert.
Ale lovers can get the guide to Kent's best pubs to visit - the type with log burning fires and hops hanging from the ceiling.
Plus, this year's six best US-themed art exhibitions are previewed.
What's On is available inside your paid-for KM Group newspapers every week, including Kent Messenger, Medway Messenger, Gravesend Messenger, Dartford Messenger, Sittingbourne Messenger, Sittingbourne News Extra, Kentish Express, Kentish Gazette, Faversham News, East Kent Mercury, Dover Mercury and Sheerness Times Guardian.
It's also available with digital editions of those titles.
If you enjoy What's On please become a fan on Facebook or follow on Twitter.
To contact editorial please email whatsoneditor@thekmgroup.co.uk or call 01622 717880.
To advertise please call 01622 794520.
To submit a free listing please click here.