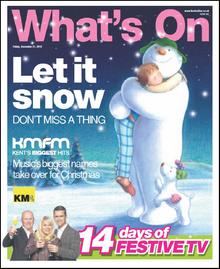 Three decades after the original was first broadcast, the long-awaited sequel, The Snowman and the Snowdog, hits TV screens and leads the guide to all this year's Christmas telly action.
Win a furry friend from the Build-A-Bear Workshop and Life of Pi movie merchandise.
Oh yes they are - read the reviews of Kent's top pantomimes.
Plus, get the round up of the year's biggest movies and Kent's musical moments in 2012.
What's On is available inside your paid-for KM Group newspapers every week, including Kent Messenger, Medway Messenger, Gravesend Messenger, Dartford Messenger, Sittingbourne Messenger, Sittingbourne News Extra, Kentish Express, Kentish Gazette, Faversham News, East Kent Mercury, Dover Mercury and Sheerness Times Guardian.
It's also available with digital editions of those titles.
If you enjoy What's On please become a fan on Facebook or follow on Twitter.
To contact editorial please email whatsoneditor@thekmgroup.co.uk or call 01622 717880.
To advertise please call 01622 794520.
To submit a free listing please click here.