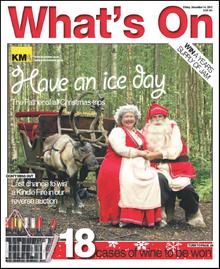 Get up close to the magic of Christmas by taking the children to visit Santa at Lapland UK.
There are 18 cases of win to be won.
Benidorm and One Foot in the Grave star Janine Duvitski becomes the fairest of them all as the Wicked Queen in Snow White and the Seven Dwarfs.
Plus, Boyzone heartthrob Shane Lynch goes back to his days as a bad boy as he becomes Abanazar in Aladdin.
What's On is available inside your paid-for KM Group newspapers every week, including Kent Messenger, Medway Messenger, Gravesend Messenger, Dartford Messenger, Sittingbourne Messenger, Sittingbourne News Extra, Kentish Express, Kentish Gazette, Faversham News, East Kent Mercury, Dover Mercury and Sheerness Times Guardian.
It's also available with digital editions of those titles.
If you enjoy What's On please become a fan on Facebook or follow on Twitter.
To contact editorial please email whatsoneditor@thekmgroup.co.uk or call 01622 717880.
To advertise please call 01622 794520.
To submit a free listing please click here.