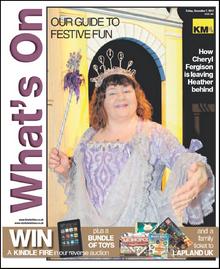 As she stars in Cinderella, Cheryl Fergison proves there is life after death on Walford, as the ex-EastEnders star plays the Fairy Godmother.
Win a Kindle Fire in a reverse auction.
Steve McFadden swaps being Phil Mitchell for being Abaneeza the Geeza in Aladdin.
Plus, find out where to meet Father Christmas on Kent's steam railways.
What's On is available inside your paid-for KM Group newspapers every week, including Kent Messenger, Medway Messenger, Gravesend Messenger, Dartford Messenger, Sittingbourne Messenger, Sittingbourne News Extra, Kentish Express, Kentish Gazette, Faversham News, East Kent Mercury, Dover Mercury and Sheerness Times Guardian.
It's also available with digital editions of those titles.
If you enjoy What's On please become a fan on Facebook or follow on Twitter.
To contact editorial please email whatsoneditor@thekmgroup.co.uk or call 01622 717880.
To advertise please call 01622 794520.
To submit a free listing please click here.