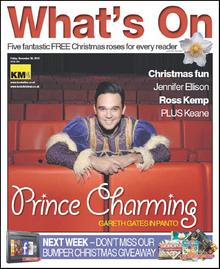 Pop star turned musical actor Gareth Gates talks about spending Christmas in Kent and overcoming his stammer as he stars as Prince Charming in pantomime, Cinderella.
Every reader can claim five Christmas roses and win tickets to see Lily Savage at the O2.
Ross Kemp talks about following orders ahead as he signs copies of his latest war book.
Plus, Jennifer Ellison has a chat ahead of her role as Peter Pan.
What's On is available inside your paid-for KM Group newspapers every week, including Kent Messenger, Medway Messenger, Gravesend Messenger, Dartford Messenger, Sittingbourne Messenger, Sittingbourne News Extra, Kentish Express, Kentish Gazette, Faversham News, East Kent Mercury, Dover Mercury and Sheerness Times Guardian.
It's also available with digital editions of those titles.
If you enjoy What's On please become a fan on Facebook or follow on Twitter.
To contact editorial please email whatsoneditor@thekmgroup.co.uk or call 01622 717880.
To advertise please call 01622 794520.
To submit a free listing please click here.