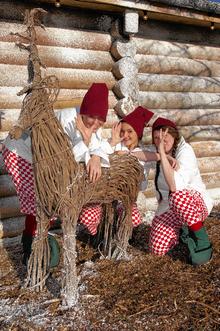 Angela Cole got in the festive spirit with a trip to LaplandUK
Friendly elves, reindeer, secret snowy paths leading to unexpected treats – there's nothing about LaplandUK which an excitable six-year-old isn't going to love.
There was nothing quite like this Kent winter wonderland when I was small – other than the real Lapland – but I wish there had been.
As families gathered on an appropriately chilly December morning at the entrance to the attraction , the anticipation of dozens of tiny, excited minds in the air was palpable.
It's hard as an adult to put yourself in the shoes of your children when it comes to an experience like it, but there wasn't a child from about 18 months to about nine who wasn't obviously captivated throughout.
Now in its sixth year, it's clear the LaplandUK bosses have made improvements after listening to visitors. This year, gone are the parking charges on top of already expensive tickets, waiting areas in the cold , and a café which only takes eElf money.
As a result, the whole experience flows far more smoothly, and is far more enjoyable. Even the elElves seemed better prepared and more confident in their roles.
The tour takes you through the snowy trails to a series of wooden chalets where various treats lay in store, including making teddy bears and decorating gingerbread men with Mother Christmas.
There's time at the Elf Village where you can meet some live huskies, post a letter to Father Christmas or go skating.
And then it's off for to the all-important, personalised visit tto the man himself, which does not disappoint.
Top tip
Although there are no parking charges this year at LaplandUK, there are many other things to spend your cash on once inside, so be prepared, including food and activities in the Elf Village, and photos of your visit to Santa.
At the end there is also the opportunity to buy from a new range of outfits for your children's toy huskies, a treat from Santa.
You can pre-order elf money but you can also get it at the Elf Village when you can work out what to spend it on.
LaplandUK is at Bewl Water, Lamberhurst, runs from now until Christmas Eve. Tickets start at £44.50 and go up to £64.50. Tours last around four hours and it is advisable to wrap up warmly and wear wellies or sturdy shoes if you can. For details and to book visit www.laplanduk.co.uk