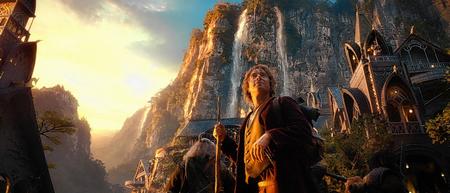 Playing Bilbo Baggins in The Hobbit is the biggest role of Martin Freeman's career but he's not looking forward to the inevitable exposure that it will bring him, as he tells Susan Griffin.
Martin Freeman is on the cusp of major league movie stardom, so you'd imagine he'd be feeling on top of the world about his good fortune. Not a bit of it.
The actor,left, has been in the public eye in Britain for more than 10 years, and he laments: "People have been annoying me in restaurants for a long time, and now it'll just be all over the world. Yippee."
Freeman, who shot to prominence as Tim in Ricky Gervais' The Office, might not be embracing the fame game but he's going to have to get used to it – and sharpish – with the release of The Hobbit: An Unexpected Journey in which he has the starring role of Bilbo Baggins.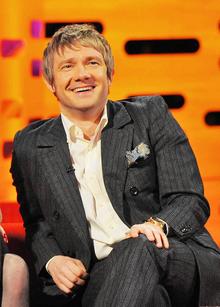 Based on the 1937 fantasy novel by JRR Tolkien, it's been painstakingly brought to life by the visionary director Peter Jackson.
"I'm getting a glimpse of that external reaction to it now, the nearer the film gets to release," says Freeman, a youthful-looking 41-year-old. "I mean that level of fame obviously is something very different to what most people will get to experience but my life doesn't feel any different yet."
He describes himself as "a very, very private person". So private that he doesn't want to confirm how many children he has (a Google search reveals he has a son and daughter with his long-term partner Amanda Abbington). What he will say is that he doesn't want his kids to see him as anything other than their dad.
You can understand he may be a little defensive, given that The Hobbit: An Unexpected Journey is just the first of three films from the team behind The Lord of the Rings trilogy. The following movies, The Hobbit: The Desolation of Smaug and The Hobbit: There and Back Again, will be released in 2013 and 2014.
Set in the fantastical Middle-earth, the tale begins 60 years before the events of The Lord of the Rings and sees a young Bilbo Baggins swept into an epic quest to reclaim the lost Dwarf Kingdom of Erebor from the fearsome Dragon Smaug (voiced by Freeman's Sherlock co-star Benedict Cumberbatch).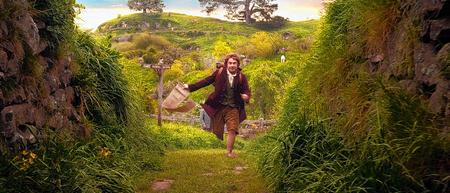 Andy Serkis returns as Gollum, while Sir Ian McKellen reprises his role as wizard Gandalf the Grey. They're soon joined by a band of 13 dwarves led by the legendary Thorin Oakenshield (Spooks star Richard Armitage) and a host of other new faces. Together the eclectic group embarks on a journey that takes them from the comfortable safety of Hobbiton into the great unknown, through treacherous lands swarming with goblins, orcs and deadly wargs.
It's the stuff of every child's fantasy but Freeman admits he only read the novel two years ago. "I just didn't grow up with it. I'm a fan now and see what it's about but it just wasn't in my universe then," says the Hampshire-born actor.
Freeman adds that the role was physically demanding from the beginning, not least because he had to cope with the flipper-like Hobbit feet. "I won't miss them," he says. "I'd have to shave my legs, talcum powder them, then they'd put an inner sole on and put this latex leg and foot over it. It took about a week to get used to."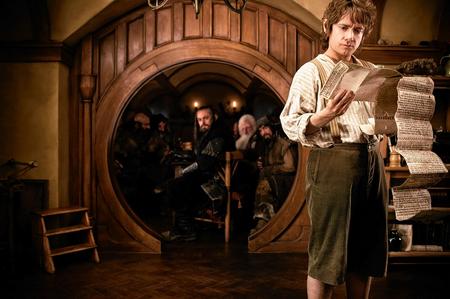 Behind the scenes on The Hobbit
It took a team of 350 people to design and create a layered, multi-faceted and palpably real Middle-earth.
Look out for Barry Humphries, best known for his comedic alter ego Dame Edna, as the hulking goblin king.
For the first time, Jackson used digital cameras to record the action in 3D at an unprecedented 48 frames per second.
In addition to playing Gollum, Andy Serkis served as Jackson's second unit director throughout the shoot.
The original small-scale set for Bilbo's home at Bag End should look familiar. It was pulled out of storage, restored and substantially enhanced for The Hobbit.
For local screenings of The Hobbit: An Unexpected Journey, click here.
For a review of The Hobbit: An Unexpected Journey, click here.