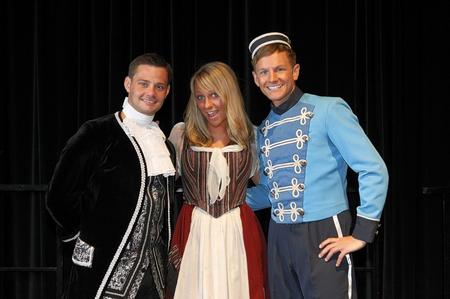 She may have posted saucy pictures of herself on Twitter and modelled for FHM, but Chloe Madeley describes herself as a bookworm. The star of the Maidstone panto spoke to Angela Cole about singing, nerves and the importance of having good shorthand.
She's danced on ice, come face to face with Big Brother and first appeared on television with her famous parents when she was in nappies, but Chloe Madeley is still very nervous about her starring role in pantomime this year.
The bubbly 25-year-old, who will be starring in Cinderella at the Hazlitt in Maidstone this Christmas, got her panto debut under her belt last year in Windsor, but is still apprehensive about singing in front of audiences. "I am a little bit nervous," she says. "I cannot sing loudly. The idea of standing in front of an audience, singing, terrifies me to my core. It is just the singing that is the bit I am worried about. But it will all be fun."
She will be getting some moral support in the shape of her well-known parents, Richard Madeley and Judy Finnigan, who, if you look carefully, are likely to be in the audience on at least one night. "Yes, 100% they will come and watch me," she says. "They love panto. They love any opportunity to be loud. You can get away with it in panto. I think my dad would make a great Ugly Sister. Maybe we could do panto jointly."
Singing aside, Chloe is relishing the opportunity to get into her panto role.
She said: "You get a real sense of family and camaraderie. It is very strange, this industry really, it is so small. It will be good fun. I have met some of the cast before, or know them through other people."
Panto is just one of many strings to her bow. She enjoyed a stint on Big Brother's Big Mouth on E4 and finished third in Dancing On Ice last year, but is careful about her career choices and more than happy to listen to her parents on the subject.
She said: "Big Brother's Big Mouth was fun and I really wanted to present, but more recently I have been leaning towards writing. I am a massive bookworm. I have been doing a night course in writing.
"My parents are journalists and they are always pleased to see when a reporter has good shorthand. I get offered things, but if there isn't a really good hook to it I am not interested. I really want to write and if I manage to make a success of what I do I could do it when I'm 60. That's one of the good things about writing."
Cinderella runs at the Hazlitt in Maidstone from Saturday, December 8, until Sunday, January 13. The production also stars Danny Young from Coronation Street. For tickets call 01622 758611 or visit www.maidstonepanto.co.uk