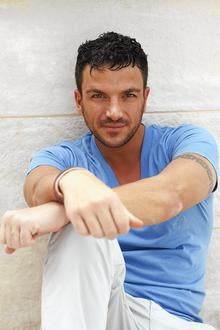 After the sad news of his brother's death last month from kidney cancer, aged 54, Peter Andre is bravely heading out on the road again to finish his UK tour. The singer has rarely been out of the public eye, with various reality TV shows and he recently designed his own clothing range.
What made you decide to get into fashion designing?
It's interesting because when you launch things like that and you see some people's comments on the internet, I thought they'd think it's cheap rubbish. But with the clothing, the shirts are handmade in Italy, and it's proper quality stuff. I'm glad I'm entering into the world of fashion and I think you have to put up with people being quite negative about it until they actually get the stuff. You can't fool people with quality.
And you're now working on your second line?
We are. We're looking at going into the major shops, and they're going to launch that early this year. I really feel welcomed into the fashion world by retail. It's early days but I think we're on a winner here.
Does your ninth studio album, Angels and Demons, represent a turning point in your life?
I think it does, yes. I think the last three albums I did, I've always had a bit of a problem getting on national radio and so we release our albums purely because we're touring. And because the tours are selling out, it's amazing. I loved doing the album, but the tours are the one thing I'm so passionate about. We bring in great producers, we're using illusions – it's an amazing show. I can't tell you how hard they've worked me on this one!
Your children are your top priority but how do you manage to balance your private life alongside everything else?
I have a good management team that helps me put everything in order. The kids regularly come out on tour and we spend time together then. Junior's always asking, 'Daddy, what time do I come on stage?'
Businessman, singer, clothes designer, presenter – which do you prefer?
I think TV is my future, but nothing can ever come close to me being on stage. The person I become, how happy I become, how focused I become is all to do with stage, more so than recording an album. For me, it's all about the concerts now.
You've been there, done that with I'm a Celebrity... but are there any reality shows that you wouldn't even consider doing?
I'd like to do Strictly Come Dancing, but it takes up too much time. The one I would always be dubious about going on and can't see myself doing – but then again you can never say never because I didn't think I'd do I'm A Celebrity... – is stuff like Big Brother. I don't mean any disrespect to Big Brother but there are certain shows I just wouldn't feel as comfortable doing.
How do you really feel when you hear Mysterious Girl – proud or embarrassed?
I do have some cringy moments but because it's a song that is a hit every summer, I'm fine with it. The one I just will not do is Insania – I can't cope with that! And the thing is, that song scarred me from bringing anything credible out. If people could just listen without prejudice, they'd see that I love writing songs and I've been doing it since I was 13.
So what's on your to-do list for this year?
Work-wise, I'm very content. I've got my reality show, I'm doing another format show – last year we did Bad Boyfriend Club – this year we're going to come up with something different, so I'm a very lucky guy. Basically ITV has been great with me – how lucky am I?
This year you celebrate the big 4-0 – any major plans?
I'm a bit confused about my 40th. I was going to go to Las Vegas with my friends and brothers but my brother Andrew will not be there now. Before he died, the importance of my 40th, the 100% most important thing, was that Andrew could be there.
Peter Andre's Up Close and Personal Tour reaches Folkestone's Leas Cliff Hall on Monday, January 14. Tickets £28.50. Box office 0844 871 7627.