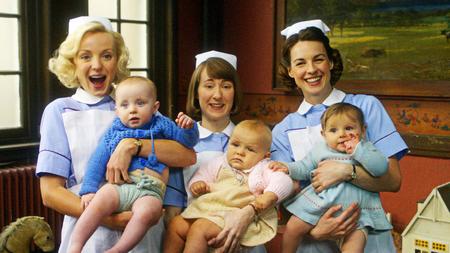 The second series of Call The Midwife, which was filmed in Kent, is delving deeper into the emotional lives of the regular characters. Lisa Williams spoke to cast members old and new.
Call The Midwife has been a massive Sunday-night hit for the BBC.
The TV adaptation of Jennifer Worth's memoirs of working as a midwife in the 1950s drew audiences in with moving birth stories, including a wealthy young mum's death from eclampsia and a mixed-race baby born to a white couple (and the father accepting the baby as his own), plus the quaint yet gritty setting.
That setting has been created at Chatham's Historic Dockyard, which was home to filming for the first series, the Christmas special and second series, which started on the BBC this year.
Equally as captivating as the Dockyard's cobbled streets, evoking a bygone era, were the characters, from the no-nonsense approach of Sister Evangelina (Pam Ferris, who lives in Elham) to the clumsy bonhomie of Camilla 'Chummy' Noakes (Miranda Hart).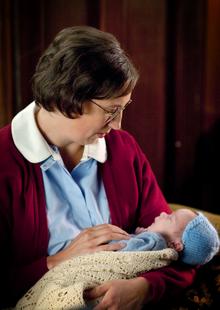 The nuns
As nuns, the likes of Sister Julienne and Sister Evangelina put the needs of others above their own.
But the second series sees one of them face a huge dilemma when she finds her faith is challenged. Sister Bernadette, the youngest of the nuns and a gifted medic, grows increasingly close to Dr Turner, a widower.
"Bernadette goes on such a huge journey, I never could have predicted it," said actress Laura Main.
"It took me by as much surprise as it does Sister Bernadette. But it's quite delicately tackled, as she is a nun after all."
Meanwhile, Sister Monica Joan is in turmoil when her dementia takes a turn for the worse. "Although we're not even sure it is dementia," said Judy Parfitt, who plays her. "She's a highly strung, imaginative woman who slips away when things get too much for her.
"She has moments of clear lucidity and moments when she completely loses the plot. It's a very complex thing."
The young midwives
Notoriously secretive Jenny opens up a bit in this series, which was a relief to Jessica Raine, who plays her.
"She very slowly comes round to the idea of a man being in her life," she said.
"I feel sorry for Jenny in the men department, I'm like, 'Come on! Go out dancing!' And she does eventually."
Her colleague Trixie never needs any encouragement to go out dancing, but actress Helen George said she gets her fingers burnt a bit in this series.
"There's a love interest for her, an older man, which doesn't go quite to plan. She gets her confidence knocked a bit which is completely irritating and not in her plan whatsoever," said Helen.
Chummy and Noakes
Our favourite happy couple, who got married at the end of the first series, face a big dilemma this series. Though she's larger than life and full of fun, Chummy has an intensely spiritual drive within her and this comes to the fore when she's invited to work in Sierra Leone.
Miranda Hart, who plays her, said: "She feels God is calling her to work there to train midwives and to teach women how to deal with their newborns."
Call The Midwife is on BBC1 every Sunday at 8pm.