Benidorm's Janine Duvitski has returned to the stage as the Wicked Queen in Snow White and the Seven Dwarfs, writes Chris Price.
Are you a panto regular?
No I'm not at all. I haven't done a pantomime since 1976, which was Babes in the Wood in Manchester. I hadn't been long out of drama school really and I was one of the babes. I was just in rep in Manchester, so it was the regional theatre's local panto. Alan Rickman was in it. I had a big part and he was a squirrel who had to cover me with leaves so whenever I see him I remind him of that. He's quite grand now but I always remind him if I bump into him that he was just a squirrel. We were both in the same rep then.
So, why did you say yes to this show in Kent?
I always thought it would be quite good fun to do a panto again but I have been mostly doing television. You think you would like to keep your hand in doing some theatre, which I have done every couple of years, and when I was asked, I thought 'why not?' really. But it will probably be exhausting. I was offered a choice of places and Tunbridge Wells is really good because I can get home to Covent Garden for actual Christmas. I have got lots of kids and although they are getting big now, I still like to do a big Christmas. I think I might get all my family to come to the Christmas Eve matinee and that will be the beginning of our Christmas.
Your daughter, Ruby Bentall, is doing very well at the moment...
"Yes she is. She is in The Paradise at the moment on TV – that period drama set in a shop. She's actually going to be doing Hansel and Gretel at the National Theatre this Christmas. She's playing Gretel but she's not performing on Christmas Eve so she can come and see me and I will get to see her on New Year's Day. It's funny because when I'm on telly I hardly ever watch the shows – I might do a little bit to see what I'm like or whatever – but with her we never miss an episode. When she was in Lark Rise to Candleford it was like a real Sunday treat for us all.
Has coming from an acting family stood her in good stead?
My husband, Paul Bentall, is at the National as well doing Shakespeare's Timon of Athens. He does mostly theatre. Ruby has always hung around in the dressing rooms and she always used to try on all my costumes and boots and loved that whole thing but she is the only one of my kids who wanted to do it. I have been really lucky to make a living at it – the worst bit is not knowing where your next job is coming from – and the job is really enjoyable if you can get the work. I just hope she keeps going and can manage to do it. She has done a lot of theatre and is aware that you shouldn't get stuck doing one type of work and that will hopefully keep you going.
Has 'getting stuck doing one type of work' affected you?
What happened with me was I started doing lots of kitchen-sink drama and then I did Abigail's Party, which was a theatre piece but also on the telly and a very popular comedy. I have continued to do all sorts of things but mainly serious stuff in the theatre and the other day, when I was in the supermarket, someone came up to me and said 'are you the comedian?' I went 'er... yes I suppose so.' I don't think of myself as a comedian. I just think I'm an actor but I've done more and more comedy and you take what you're offered. The trouble is people offer you similar things to what you've done before. They certainly do with me. People see you in a certain way. They think it would be difficult to put me in a serious thing because people will expect me to make a joke.
Why do you suit comedy roles more?
Somebody said I've got a funny face. Even though I'm playing the fairest of them all on this occasion, I've got a face like ordinary people. Most people don't look like models. I can look ordinary and although I don't think I have got a funny face, I have got a face that does not have perfect features. It's down to my looks in one sense but I also try to make it as real as possible. I don't have a clever way of doing anything. I don't have a clue about comic timing. It's just instinct and reacting to the person in front of you. If people think I'm funny then that's good. It's complete instinct in the same way you would do a serious play but I wouldn't have a clue how to teach it.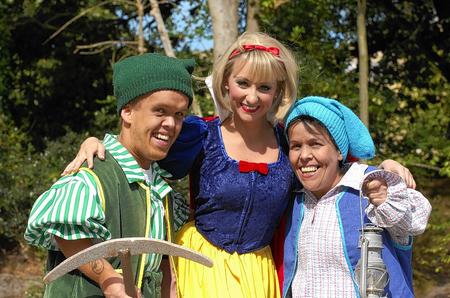 Janine Duvitski extra time
Personal: Janine was born in Lancaster, Lancashire in 1952. Her father was Polish.
Family: She has four children, John, Albert and Edith plus actress Ruby Bentall with her actor husband Paul Bentall.
TV credits: Benidorm, One Foot in the Grave, Dennis Potter's Blue Remembered Hills, Brush Strokes, Minder, Midsomer Murders, My Family, Man About the House, The Georgian House and Z-Cars. Her most recent prominent role is as Eve in the BBC sitcom The Worst Week of My Life.
Film roles: Breaking Glass, The Madness of King George and she also had a small role opposite Laurence Olivier and Donald Pleasence in Dracula.
Janine Duvitski is in Snow White and the Seven Dwarfs at the Assembly Hall, Tunbridge Wells, from Friday, December 14 to January 6. Box office 01892 530613. Tickets £15 to £22.