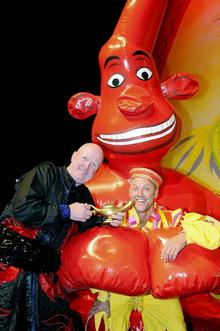 EastEnders hardman Steve McFadden will show a softer side when he stars in Aladdin. He's also likely to be out on the town with co-star Matt Slack, he told Chris Price.
You may think Steve McFadden has something of a cushy life. Having been in the same job for 22 years, it's easy to assume the man better known throughout the land as EastEnder Phil Mitchell would be winding down a shade and enjoying the finer things in life.
After the first week of rehearsals for panto rehearsals in Dartford – when the actor still has filming commitments with the BBC soap – the myth is quickly dispelled.
"I finish there and then rush off to rehearsals to try and keep up with everyone," said Steve, 53, who will play Abanazar at the Orchard Theatre in Aladdin.
"The second week I'm free from EastEnders and can devote 24 hours a day to this job."
So why does he put himself through the hassle over the Christmas period?
"That's my life," he laughed. "This will be my Christmas holiday, meeting old friends and making new ones. The holiday is being on stage, jumping about and having a few too many beers after the show. It is a change of scenery from what I am used to."
This is only the second time Steve has been to Dartford, having watched his co-star Matt Slack star at the Orchard with Lesley Joseph in Cinderella three years ago.
"He's that good I come and see him," said Steve, who did Peter Pan with Matt in 2004 and the pair have remained friends ever since. They did three consecutive years and then reunited two years ago for the same show, with Steve as Hook and Matt as Smee. This is their first brand new show together since they first met.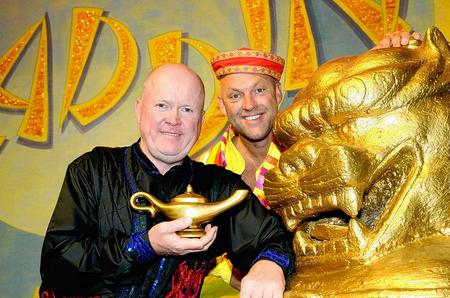 "We are both excited about that," said Matt, who has just finished a year performing in the final run of Blood Brothers in the West End, which has closed after 24 years. "We are good mates and hopefully that will come across. It helps if you get on with the person you are starring with.
"Away from the character of Phil Mitchell, Steve is one of the nicest, softest, father of four kids you will meet. He is a lovely guy and I'm not just saying that. He is a very close friend and I love him dearly – but not in that kind of way!"
Steve said: "There will definitely be a few jars after the show. We like to let our hair down. I stayed here before when Matt was in panto with Lesley Jospeh and we went out on the town so I am sure we will again. I don't know where the Dartford nightspots are but I'm going to try and find out."
However, both Steve and Matt put a lot of work into their panto performance. Steve's role has been developed from Abanazar into more Abaneeza the Geeza, while Matt will play Ali Baba, a new character for the story.
"Even up until the last night we will be tying to make it better because Matt is a perfectionist and I'm a bit of an OCD merchant. We'll keep working on it until we go home," said Steve.
"I've proved at EastEnders I don't just turn up and plod my way through it. I put my shoulder to the wheel and push as hard as I can. It is the only way I know."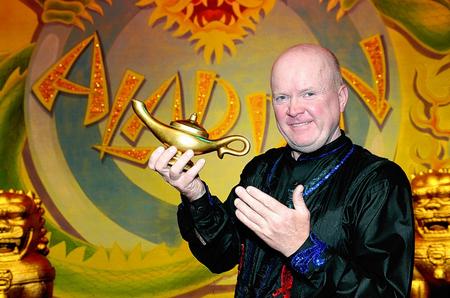 Matt has had the job of developing many of the roles in the show and plans to work more in production in the future.
"As you get older, you can't keep jumping about like an idiot because it hurts," said Matt.
"Last time I was here my groin went, my neck went, my back went and I could hardly walk at one point. I've got a lot of projects on the go at the minute which I'm writing and developing.
"That is why I have worked for Qdos [the production company behind Aladdin] for so many years. This is big budget stuff. This has got the 3D genie which is awesome. It is a great effect. I love the creative side. It is what makes me tick."
For Steve, the biggest advantage of panto at Christmas is getting to shake off Phil Mitchell's monotone, hardman image.
"The nature of television is it is fine and detailed work, whereas this is large, broad brush strokes with powerful colours.
"You have got to be brave and go out there with your chest pushed out."
EastEnders is part of my life
Steve McFadden admitted people have preconceptions about him from playing Phil Mitchell in EastEnders.
When they meet him, they often say things like "you're better looking in real life", "you can smile" and "you're not as big as I thought you were".
But he cannot see himself ever leaving Albert Square.
"I've just taken my career as it comes," he said. "You go through what doors open for you in life. I've done a lot of work that I am proud of at EastEnders and I don't feel tired, or bored or that it is not a challenge any more.
"While I feel like that I cannot see myself leaving and also while the fantastic people I work with are around, then why would I want to go and work somewhere else?
"Don't get me wrong, if Hollywood rang up and asked if I could do this new movie, then I might ask for a couple of months off but I think I would still want to come back. It has become a part of my life."
Aladdin, starring Steve McFadden and Matt Slack, runs from Saturday, December 8, until Sunday, January 6. Tickets cost £18.50 to £29.50, concessions available. Box office 01322 220000.