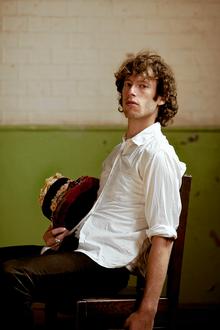 An unconventional and contemporary approach to folk music saw Sam Lee's debut album nominated for the Mercury Music Prize, and now he is bringing his unique sound to Sandwich.
Critically-acclaimed singer Lee is performing at St Mary's Arts Centre as part of his first solo UK tour.
Since swapping his colourful former careers - which included visual artist, teacher of wilderness survival and cabaret performer - for the world of folk, Lee has become one of its leading lights.
Describing himself as a 'song collector', he spent time researching and documenting the music of Romany Gypsies and Irish travellers and his work formed the basis of his first album Ground Of Its Own, released last June.
It led to Lee not only vying for the Mercury Music Prize alongside the likes of Plan B and the Maccabees, but also being nominated in last year's BBC Radio 2 Folk Awards as Singer of the Year and for Best Traditional Track.
He will be joined by his band to perform tracks from the album during the show in Sandwich. The evening is sure to be anything but traditional.
He is performing on Friday, March 1.
Tickets £12, available from www.smugglersrecords.com