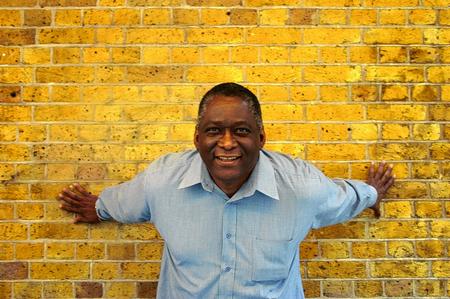 His radio show the Soul Spectrum launched the careers of the O'Jays and the Three Degrees but DJ Greg Edwards would not be caught within a mile of a station now. Ahead of a live set in Kent, he spoke to Chris Price.
Charlie Brooks is the Queen of the Jungle, James Arthur won X Factor and Kent's Julian Clary topped the pile on Celebrity Big Brother – but it is all lost on Greg Edwards.
"While the moon is still orbiting the Earth, you will not find me doing something like that," said the ex-Capital and Radio 1 DJ in his slow, deep New Yorker voice.
"I cannot think of anything more abhorrent, stupid or ridiculous," he continued, mystified as ever about reality shows and today's culture of celebrity.
It is all a far cry from the 1970s and 1980s, when he used play soul and funk records to millions and walked corridors with the likes of Kenny Everett, Peter Young and Chris Tarrant.
"I loved radio in those days," said Greg, who described himself as a "very old teenager," who still plays three or four live DJ sets a month.
"I enjoyed the process of hearing music and sharing it with like-minded people, unlike most DJs today who enjoy the thrill of being on the radio. Now, radio is like today's celebrity culture, where people want to be known and that was never something that motivated me.
"We just wanted to be creative and share. We were all like brothers and sisters. We got on incredibly well. Although we had people who became successful at Capital, no one walked around with their nose in the air, being a star. There was just an incredible amount of talent."
It was that talent which made Greg essential listening for lovers of black music, right through to his last radio gig at Jazz FM in the 1990s. He has given up the airwaves because of the celebrity culture he makes no secret of despising. He presented Top of the Pops a couple of times at the height of his fame but insisted TV did not capture his imagination or that of his Captial colleagues.
"Although Kenny Everett did TV he did it only with people he liked," he said. "If you had put him with a different set of writers or producers he would not have done it. The desire to be on TV was not important. Us older ones were of a different ilk to the youngsters whose motivation is instant gratification."
Born in Grenada and raised in New York, Greg came to the UK in 1971 to help the running of the Philadelphia International record label, founded by writer-producers Kenneth Gamble and Leon Huff. "I took care of Earth, Wind and Fire, Lou Rawls and Johnny Nash," he said. "In those days black music was more varied. Today it is just R&B and rap but the artists I covered didn't sound anything like each other."
That was part of the reason for calling his Capital Radio show the Soul Spectrum. He said: "The press liked to lump things together, like NME for rock and the Record Mirror for pop music. If I'm asked what kind of music something is and I say 'black music,' journalists say 'like Motown?' and I say 'no' and then they say 'oh, like James Brown?' and I say no again. The title of my show was a deliberate thing to show the spectrum of black music. I wanted people to know what they would be getting."
It was also a reaction to what he considered arrogance from producers at Radio 1, who did not allow him control of what he played.
"It was important to me to let listeners hear it because jazz and soul were not given much coverage by the BBC. They were very snotty and looked down at me when I said people should be listening to Miles Davis on my show. They said it wasn't jazz and I just thought 'who are they?' I had a bunch of white people in suits criticising and determining what black music was."
Today, Greg chooses to deliver soul and funk at clubs and bars, including his set at Banks this weekend, which he agreed to play after getting a call from his old colleague and ex-Radio 1 jock Jeff Young, who supports him on the night. "It is nice that people still want to party with me," he said.
Greg Edwards will DJ at Maidstone's Banks Bar on Saturday, December 22. Support from Jeff Young and Paul Clark. Tickets £15. Call 01622 676799 to book.