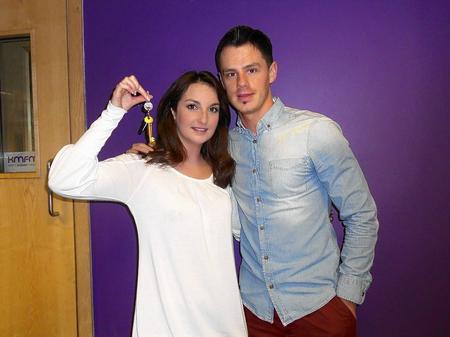 with Breakfast DJ Emma Saint
If you listen regularly to the kmfm Breakfast Show you will know that one of my worst habits is losing my house keys.
We've all done it at least once, but I seem to do it at least once a week and end up locking myself out.
Why, I hear you ask? Well, I was once told that having too many keys on your car key can ruin the ignition barrel. I'm no mechanic, but ever since then I have always kept my keys on separate bunches just in case!
This little foible of mine was mentioned a few times on the show last week, and Rob felt sorry for my other half Mike, who has to keep rushing home to let me back in, so they planned a little surprise for me.
I have been hinting at wanting to get engaged for quite a while, and when Valentine's Day came around, Mike arrived in the studio and "proposed" live on air. He took off his top and gave a lovely speech before getting down on one knee and holding out a small box that contained...a spare door key!
I had to laugh but I've warned Rob I will be getting my own back!
The video can still be seen online at www.youtube.com/watch?v=wOqralhZrQg
You may have noticed that I've been abandoned by my fellow kmfm Breakfast presenter Rob Wills, who has disappeared for two weeks to the lovely Florida!
As I sit at my desk staring out of the window, wishing it would get just a little bit warmer outside, he is swanning around in the sunshine!
But I have found a brilliant replacement in Garry Wilson, who has moved temporarily from his usual kmfm Daytime shift to join me while Rob's away. It is business as normal on the show, so make sure you register to play 10 in 30. A prize of £500 is up for grabs everyday! Good luck, and have a great week!