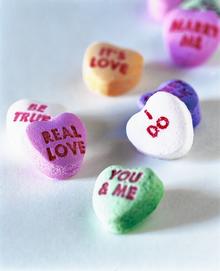 with Breakfast DJ Emma Saint
Well it's that time of year again, when you either jump up and down after receiving a card in the post, or sit on the sofa in your onesie with the biggest tub of Ben and Jerry's you can find! To all of you in the latter category on Valentine's Day, I send my best wishes, hugs and kisses.
Love is an amazing thing, exciting and overwhelming. But it's the heartache, the cheating and the spitefulness that ruins the equation. As you have probably already worked out, even when your glass is half full, the other half is always empty. Basically, without love we are nothing but with love comes all the things we hate as well.
Growing up is a tough job. I know people tell you life is hard and it is. But if growing up and paying bills wasn't bad enough, we are faced with a chapter in our lives called relationships.
This chapter in my life started in secondary school. It was a winter day, grey skies and heavy rain. Our usual group of friends were busy kicking puddles at each other and doddering along while I was counting the minutes wishing I was home already. I had a thing for a boy in my year at school, someone I had also gone to primary school with. Name? Mark Reeves.
He was a nice boy, good looking, the type of boy your parents would have been pleased to meet. So after a whole two weeks of calling him my boyfriend and holding hands, it was time.
The time where your heart pounds and your palms go sticky because you know you're going to have to kiss him. Let me rephrase that, you're going to have to snog him.
I'm guessing your first snog might have been along the lines of something very similar to what I'm about to describe. I was standing in the pouring rain – a great setting if you're in a Hollywood romance, but I can assure you this setting was somewhat different!
Rather than the violins playing in the background and the guy sweeping me off my feet before caressing my face and gently pressing his lips to mine, I looked like a drowned rat, shivering in the cold with a crowd of friends standing around shouting "get on with it!".
Then it happened, our heads cocked to the side, a banging of teeth before a slobbery washing machine of tongue action and exchange of what I can only describe as minty dribble.
That's when this relationship chapter really began. I'm pleased to say all these years on I have finally found the prince among the frogs and I am quite happy with my partner Mike. So much so I think this is the guy I want to spend the rest of my life with! All very grown up, I know. You may have heard me chatting about leaving subtle hints to Mike about getting engaged on the Breakfast Show.
OK, so maybe not so subtle, but I tried at Christmas and New Year and it didn't happen so I'm hoping this week he'll get the picture. Tune into Rob Wills and myself every weekday morning on kmfm Breakfast and I'll let you know how things pan out.